Student information management system
A student information management system is a data management software that helps educational institutions digitize and efficiently manage student information. The system can collect school wise data and store them online to be easily accessed by students, teachers, parents and school authorities.
Student management software comes with various modules that help track, store, and manage student and school data, including student registration details, finance management, grades, attendance, and activity records. Such comprehensive data can be easily shared with different users to ensure quick, systematic and error-free functioning of school administration and student activities. 
How is the student information system different from the school management system?
Both student management systems and school management systems are ed-tech applications that help achieve all kinds of scholastic goals. So, what's the difference?
A student management system or student information system focuses primarily on storing and managing student data. It bases the student data on an individual level and coordinates scheduling and communication between different users. Accurate and timely data obtained with the help of these systems enables the institution to make better decisions.
A school management system aims at simplifying various institution-specific tasks like accounting, infrastructure and facilities management, laboratory management, student & staff management, cafeteria procurement etc. It is an easy solution for reducing the burden of repetitive tasks and managing the daily activities of a school. 
Opting for a school/ student management software that will offer the school authorities the required functionality they need to improve their processes and students, teachers and parents, as well, to simplify their tasks, is important for achieving immediate and long-term benefits.
Benefits of Student Information Management System
Student information systems enable the educators and school authorities to store and manage data at a centralized location. It keeps track of complete student activity and boosts the productivity of an organization. To overcome the complexity of conventional student information management and manage all the tasks with optimal efficiency, every educational institution needs to have a robust and secure student management system. Here are a few insights into the advantages of a student information management system: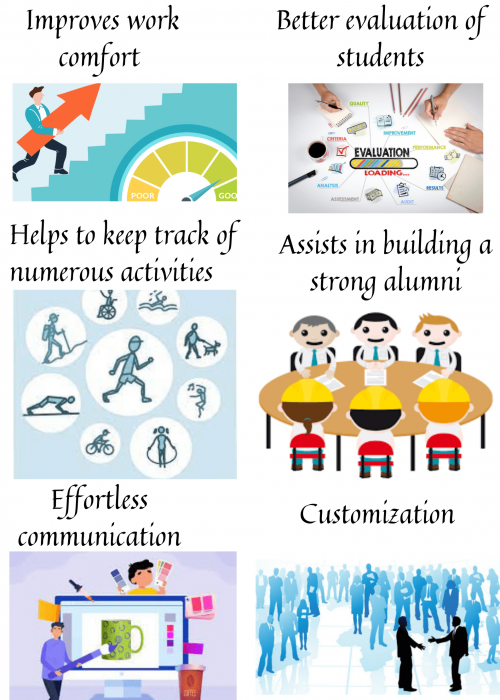 Improves work comfort
 Work comfort is an important factor that increases staff performance and helps reduce their burden. Student management software helps to minimize the effort taken by the school authorities and staff in managing both administrative and non-administrative activities. It can easily improve staff work comfort and help manage their activities smartly. 
Better evaluation of students
Student management applications help collect data in real-time with analytics, which promotes evaluating each student's performance. With such evaluation tactics, the teachers and administrators can make adjustments to serve the students more effectively. The system has also enabled parents to access their children's school activities, including assignments, exams, results and grade books. It also makes it possible for the students to view and track their records to get insights on increasing their performances. 
Helps to keep track of numerous activities
Student related tasks include sports, internships, physical training, club activities, social works and other extracurricular activities that go beyond classroom education. Keeping track of both classroom and other activities is critical for school management. With lots of data to handle, the software becomes evident to administrators needing to make easy management and smart decisions. It helps to maintain detailed records of student activities, follow up those records and keep track of all important activities. With the help of an efficient and user-friendly school management system, the school authorities can make sure that the record of each student is intact. 
Assists in building a strong alumni
An effective student management system opens new areas for building a strong alumni network. Schools, colleges and all other educational institutions need to efficiently manage their alumni network. Such a network can help the school in funding, job referrals for students etc. The SIS software can build an alumni network and seamlessly manage your alumni relations. The Alumni data can be centralized and combined in any future endeavours.
Effortless communication 
The software helps make efficient communication between teachers, students, non-teaching staff, parents and school administrators. Most school management systems have inbuilt discussion panels and channels of communication like video conferencing, audio conferencing, SMS, automated emails, instant messaging, instant notifications etc., that enable seamless communication between the users. Such an effortless system builds transparency and speeds up the process of interaction, leading to improved productivity and quick communication. 
Customization 
The latest student information and school management systems are designed so that the administrators can customize their features according to their needs. It can be changed according to the process of the school to make it work in sync with the workflows of that particular institution.
The SIS software solutions provide separate profile access and login options for different users to offer the maximum benefits and facilitate access control. The major advantages provided by the student information system for teachers, students, parents and the school management are described here:
For teachers
Teachers don't have to worry about finding efficient ways to keep track of important student information. The ERP solution incorporates a teacher's portal to perform various tasks that assist them in teaching and managing student information. Here are the major benefits enjoyed by teachers:
»

Class schedule & time table management

»

Accurate attendance tracking

»

Creating grade books and filling in grades

»

Seamless teacher-student-parent-administrator communication

»

100% data security

»

Easy & accurate reporting on student performance

»

A.I powered dashboards for student analysis
Students
The portal for students can assist them with their studies and provide the tools to get their information. With the help of single-point access systems, they can view and manage information anytime from anywhere. Following are the major benefits offered by the student's portal:
» Easy time table management
» Access to their own information
» View results and grades
» Personalized communication with tutors 
» Review fees and proceed with payment
» Instant notification on important events
» Individual dashboards
» Information on daily attendance, exam schedules etc. 
Parents
Student information systems offer guardian portal facilities that enable parents to actively participate in their child's activities. The parent portal offers personalized accounts to the parents where they can interact with tutors and administrators regarding school operations and students' performance. The following list depicts the benefits for parents:
» Review student's attendance, performance and behaviour
» Monitoring test results and student's grades
» Admission & fee management
» Tracking student activities and getting progress updates
» Info about important activities and events like institute updates, holidays, cultural fests etc. 
» Direct & instant communication with the tutors
School management
With the help of a student information system, the school management will automate the previously time-consuming operations. It is a time-saving and cost-effective solution for administrators to manage their daily tasks. Here is a shortlist of benefits that come with the student management system:
»

Data privacy & security of sensitive information 

»

Automated office tasks

»

Easy access platform with role-based access & authenticated profiles

»

Streamlined admissions, administrative processes & non-administrative tasks. 

»

Open communication through all departments

»

Total control on the application

»

Availability of records for 24/7

»

Centralized data repository
System benefits & security features
Applications designed for managing student data come with various unique features that help reduce the workload of staff members and manage an enormous amount of data in a single place. The system is safe, secure and reliable. Here are the important system features of a student information system. 
Safety and access control
Most of the student management applications are cloud-based. They store information on a centralized platform, making the data safe and highly secure. The system also ensures that the institutes have full control over their data. As it offers role-based access, the amount of information available for each user depends on their role in the institution. With features such as multiple backups and automatic security updates, the cloud-based student management software offers 100% data security, safety and access control. 
Integration with other systems
The software can be integrated with other applications like content authoring tools, biometric systems, accounting software, payment gateways, school management software and learning management systems. Such integration helps in streamlining workflows and improving student performance. It also ensures that your data remains accurate across all software.  
Profile management
Each student, teacher, parent and administrator will have separate logins to get into the system. The system integrates all the profiles into a single platform. All users can create their own username and password to access their profiles. Parents will get updates on real-time activities of students and school-related information. They can interact with tutors, administrators and school staff to discuss and improve children's performance.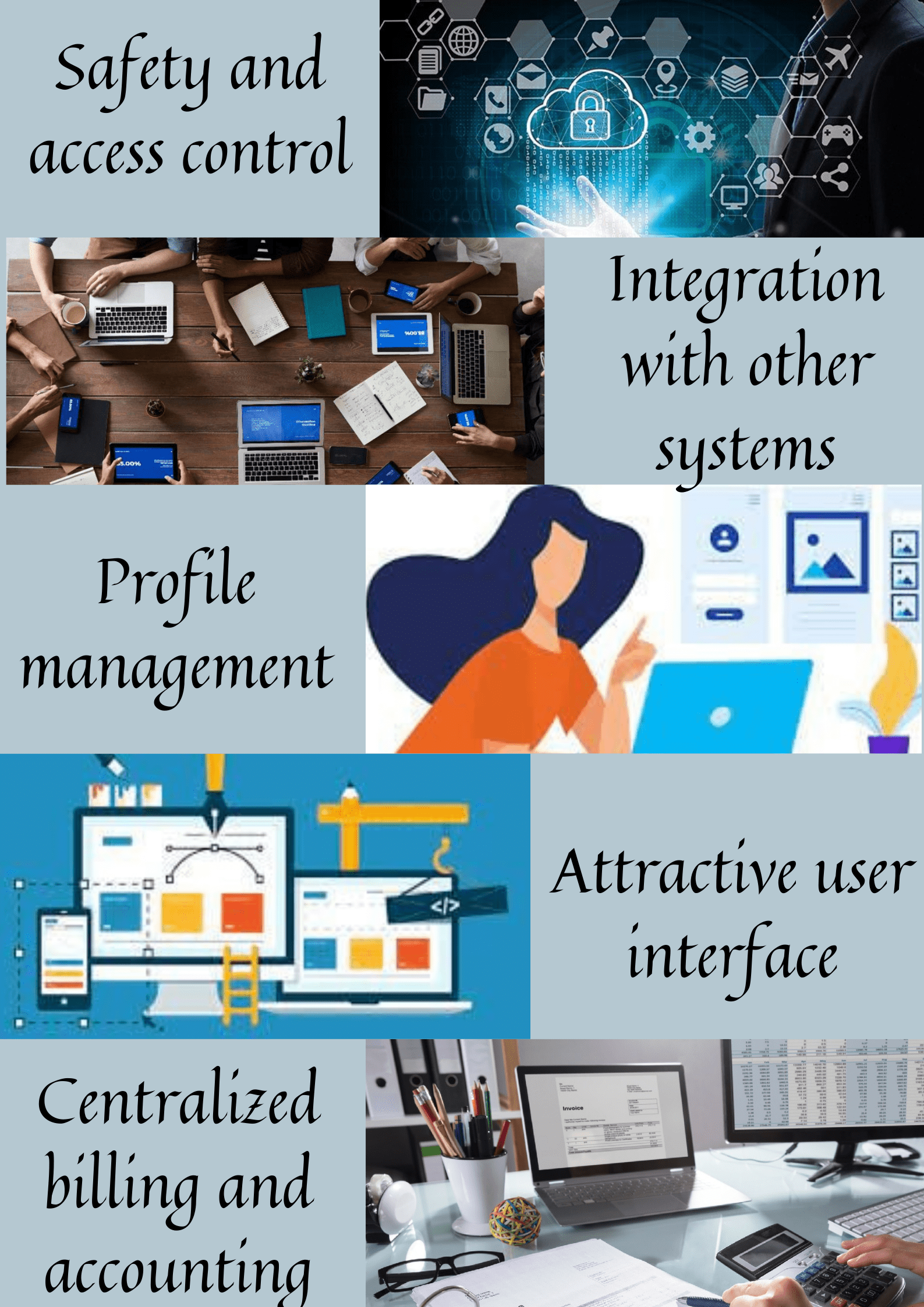 Attractive user interface
Student information systems come with easy to use and visually attractive user interfaces. The end users can easily learn how to use the application, they are not required to undergo any special training to use the system. This also helps in saving time and limiting the usage of significant resources. 
Student health information and behaviour analytics
Student information systems can even predict students' health conditions and behaviours by tracking critical data of a school and the students in that institution. The system can also include additional features such as monitoring campus activity or specific risk factors of individual students, such as course failures and behavioural incidents leading to violation of rules or submission of discipline referrals. 
Centralized billing and accounting
Student management systems provide a centralized billing system for the smooth running of accounting tasks. A single accounting and billing database can include reporting, auditing, preparing bills, preparing fee summaries, all payable and receivable details, project funding and many more. 
(Visited 1481 times, 1 visits today)