Paying School Fees Online-Do's and Dont's
Education technology is on the rise. The evolution of modern technology and the digital transformation of education institutes have enabled the school community to automate and easily perform their daily/routine tasks. One of the topmost benefits of such evolution is the introduction of digital payment platforms that have reshaped the entire school fee management system.
The fee management system of schools started changing drastically since the covid-19 hit the country. Previously, in the traditional fee management system, parents needed to remain in long queues, take time off from their busy schedules and travel long distances to pay the school fees. With the introduction of online payment gateways, school fee payment is just a click away. Parents can pay the fees by sitting in the comfort of their homes. Additionally, the ongoing pandemic also made it mandatory to avoid social gatherings, so payment through online portals became necessary. 
Digital payments in India got introduced in debit/credit card payment and net banking. Later, the technology evolved and people received different options for payment, such as payments through wallets and UPIs. Since then, for the convenience of the school community, all of such payment gateways have been integrated with school ed-tech applications.
School fee payment features in school management apps offer exclusive fee management options such as online fee payment, managing payment failures, transaction details & payment history, print and saving receipts, managing refunds and even a way to deliver payment notices online. This can be done through devices with internet access, such as laptops, PCs, mobile phones & tablets. 
Before analyzing the do's and don'ts, let's find out how online payment can benefit the users (including both the payer and receiver) and its limitations. Here are a few insights into the online mode of paying school fees.  
Easy and convenient payments 
 Online payment methods have made fee payment quick, safe, speed, and smooth. The users can make payments from anywhere through an internet-enabled device. They can choose their preference of payment, i.e. options like debit card, credit card, e-wallet, UPI or internet banking.  
Fee reminders
With an online fee management system, the user can create multiple fee heads and automatic reminders on their due date. The user-friendly solution helps to schedule different fees such as tuition fees, transportation fees, exam fees, etc. The teachers/admins will have options to collect a part payment, late fees penalty & even to allow discounts on special cases.
Automated Receipts & Reports
The fee management system users will get instant updates, acknowledgment, & invoices on fee payment. They can download and save reports in PDFs or any other available format. The system also provides management reports for real-time fee collection & due reports. Automated daily reports keep the school management updated on fee collection under different heads.
Payment tracking 
An online payment system enables tracking the fees paid via the software. Users will get confirmation notifications about their payments. They can view/download the transaction history of all paid/failed payments and also access their account statements all the time. This increases the transparency of payment procedures and reduces billing errors.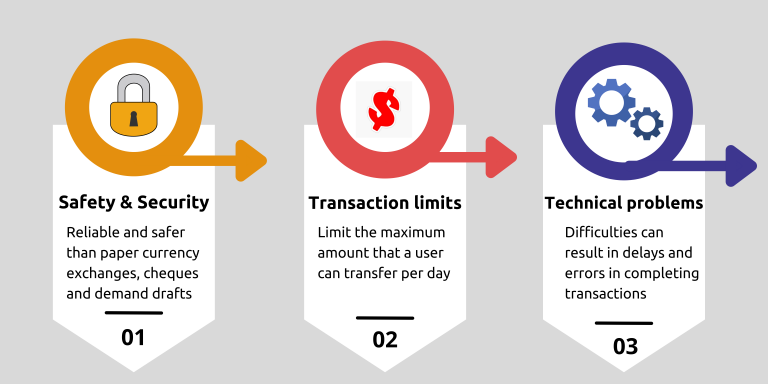 Even though the online payment systems provide several benefits to the users, some threats/limitations still need to be taken into account. Here is a list of the major limitations:
Safety &Security
Online payment platforms use safe payment gateways that secure each and every financial transaction made through the portals. It is more reliable and safer than paper currency exchanges, cheques and demand drafts. However, the user will have to follow some simple precautions to not misuse account details. Vulnerability to cybercriminals can disable payments or exploit them to steal your personal information and money. 
Transaction limits
Online payment gateways limit the maximum amount that a user can transfer per day. The daily limits can depend on factors such as the type of transaction and service provider. Some banks also set time limits and stipulated timings for payment modes like NEFT. 
Technical problems
Online payment can go down due to technical problems such as instability in internet connection, no response from the bank servers, unauthorized transactions, etc. Such difficulties can result in delays and errors in completing transactions. With respect to the above points & all other risks involved, here is a list of some important guidelines that can be useful for performing online transactions:
» While making an online transaction, always look for secure and reliable gateways. Before making the selection, you can carry out primary checks like security, technical integration, compliance, gateway fees, comprehensive user experience and technical support from the service provider.  
» Ensure you have a good security system like an antivirus or firewall to protect the transaction details and any information you retain. Use additional security measures such as fingerprint/PIN recognition and regularly-updated passwords to protect your payment account.
» Don't forget to continuously update your payment options and account details. For example, if there is any change in your KYC details, account information or bank details, you might need to update your payment account to prevent errors in transactions.
» Ensure you use encryption to send the payment information to and from your account. An increased level of encryption can secure your transactions and reduce the chances of theft. 
» Parents living abroad should ensure that the payment method/payment gateway they choose supports international payment and cross-border transactions. 
» If you allow your child to make online payments, then teach them about the threats involved. Also, make sure they are properly trained in managing the online payments system and keeping the details secure.
» Educational institutions can create a successful payment strategy by considering various options such as nationalized banking partners, secure payment gateways, fraud prevention, security measures, verifications and authentication processes.
Online fee management applications reduce the effort of fee payment and management for the parents and the entire school community.
In the conventional payment method, there are chances for the money to get lost or stolen from the students, but with online payment systems, parents don't have to worry about such things. 
The user interface and functions of fee management applications are very simple, so for a new user, it will be easy to understand how to use the system and complete the transaction successfully.
The parents' portals in fee management systems will provide notifications on fee payment, so the students are not required to remind their parents about the due dates. 
Teachers and admins can get updates on fees paid by the students. They will have access to student fees management details such as fee submissions, issue receipts, due dates and record maintenance. 
So, in the current world, an online fee management system is one of the must-have features of an educational institution. It helps right from managing students' financial registration to secured transactions.
The cashless mode of payment has many advantages compared to the traditional payment methods. While there are some considerable challenges, the way to ongoing success is apparent. 
(Visited 773 times, 4 visits today)