Top Essential Apps to Help Survive Online School/College Classes
Online learning or e-learning is an improved form of virtual education where learning is made easier. It is just one type of distance learning by which students get the chance to take courses by sitting at the comfort of their home. E-learning happens through educational applications. Online classes app or educational pc software is really beneficial for people who live far away from their campuses and for those who prefer studying at their own pace.
What are the benefits of online classes applications?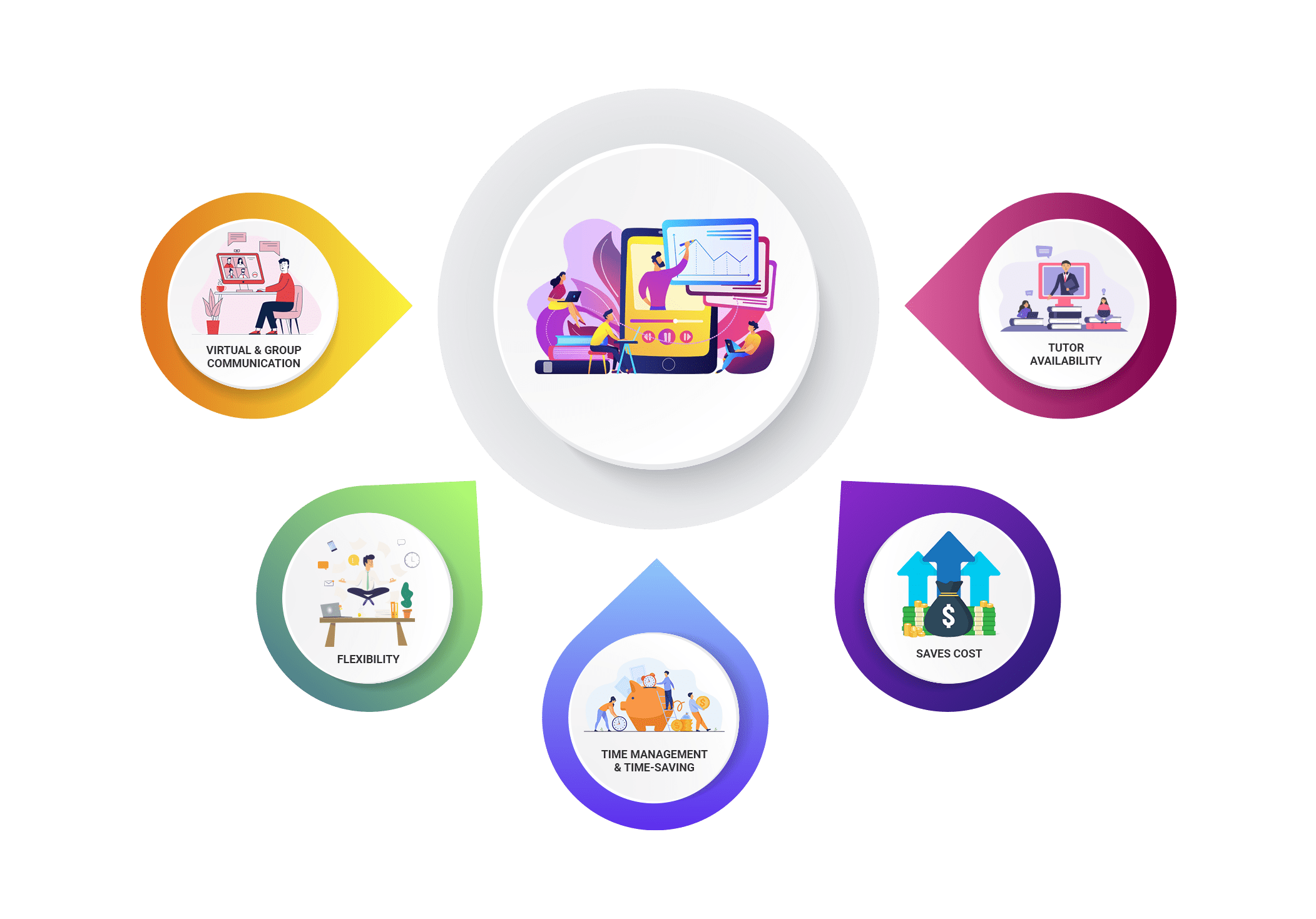 Once you adapt to the online learning model, there are lots of benefits that you will find out. Here are the major benefits that an online learning application offer:
Virtual and Group Communication
During online learning sessions, a person can virtually communicate with his classmates and teacher. Such a system helps students and teachers to collaborate and communicate with each other easily, with great speed via email, chat, video-conferences etc.
Flexibility
Online teaching apps offer the benefit of learning from anywhere according to your convenience. Some school apps also provide facilities for learning on your own schedule. Accessing class materials and submitting works is much easier through online learning.
Time management and time-saving
People who need to travel long distances to school and colleges can save time required for travel and devote that time into other activities. Teachers can manage their time by making regular class schedules and following them in order.
Saves Cost
Online teaching apps Online learning is much more cost-effective in various aspects, compared to traditional school education. It helps to avoid campus-related fees and dues like hostel fees, transportation cost etc.
Tutor availability
Tutors who teach online can set hours according to their schedules and easily conversate with multiple students at once. Professors can make reports and leave comments even during the night time.
Increased Responsibility
Online teaching apps Studying online requires patience, motivation, discipline and time management skills. If students possess all of these qualities and are willing to take classes online, then they will be spending time on their own without the physical presence of a teacher to keep them focussed on academics. This increases the responsibility of students on their academic tasks.
How Do Online Classes Work?
Online teaching through mobile phones and other devices include video conferences, live lectures and instant messaging. In virtual education, everything from attending sessions, discussions and presentation is not difficult as a student anticipates (if he/she has never attended an online class). They don't need to be 'tech-savvy' to handle online teaching applications.
Here is a general overview of how students can learn online using school/college apps:
♦ Students and teachers need to log in to the learning management system, i.e the course management mobile application. A stable and reliable internet connection is essential for the smoother running of applications. Generally, in applications like Google meet, which is the best app for online video classes, the tutors can generate a link using the application and invite students to join that link.
♦ After the course begins, students can listen and read the lectures provided by the teachers and interact with them through chats, instant messaging or by speaking with them through video conferences. The teaching process via classroom apps for students usually takes place in two forms; either through live virtual meets or through recorded and uploaded video/audio lectures, animations etc. which the student can play and listen whenever they want.
♦ Most of the online teaching apps in India provide separate sections where students can check and submit homework and assignments. Teachers can assign online assignments to their students which the students can complete online/offline and submit through the app.
♦ Students and teachers can engage in various discussions by participating in group chats held at a specific date and time. Students can come up with their own ideas and easily collaborate with each other.
What are online classes in school?
Online learning is a form of distance learning where students use their devices and internet to attend classes. Online teaching provides virtual classes that students can attend from any place where they can access the internet. In this mode of education, teachers are able to conduct classes using a learning management system like an online classes app for teachers & students. Teachers can prepare a structured curriculum and work remotely so that their online students can easily follow it.
Online schooling is changing the face of learning and making education more accessible. 
We have seen a rise in online learning this year due to the Covid-19 pandemic. The pandemic caused all schools across the world to shut down, resulting in billions of students to temporarily stop attending their schools. As a result, the method of teaching has changed with the distinctive rise of online teaching, where teachers from the school started teaching their pupils, virtually on digital platforms. Teaching sessions can include audio, video, emails, animations, text, virtual training and live chats. In this way, online learning has become a common option for schools, colleges and other educational institutions across the world. Researches suggest that online learning is flexible and less time consuming, so there are chances for this method to stay for a longer time.
Even before the pandemic, various schools adopted e-learning where they depended on electronic technologies to access the educational curriculum and learn portions outside of a classroom. This shows us that online education was already a part of our current educational system.
Advantages, Ideas and Features of Education Apps
Online learning has replaced traditional methods of education. Educational apps offer new and innovative methods of learning via interaction and visualization. Augmented reality-based apps can assist students, especially small kids in learning not only the curriculum but also various maths quizzes, games and other tricks which help to boost their intelligence and increase problem-solving skills. Since more institutions are relying on online learning, it is a great chance for app developers to develop customized online teaching apps to earn money. And also, if you are an experienced teacher, you can make money by teaching on platforms like Udemy, Upwork and other online teaching apps for teachers in India.
Here are a few educational app ideas that would be beneficial to both  students and teachers:
♦ Education app with education-related games.
♦ Question and answer app for students to post questions and find answers.
♦ Tutor app that enables teaching and instant chats with the tutors.
♦ Preschool apps for kids in kindergarten to learn colours, numbers, letters etc.
♦ Subject-specific high school apps.
♦ Competitive exam apps.
♦ Apps for special children.
The best online teaching apps in India as well as other nations provide us with the following features and advantages.
Advantages of Education apps:
♦ Remote learning.
♦ Better communication.
♦ 24/7 availability.
♦ New and improved learning methods.
♦Systematic learning with quality interaction with tutors.
♦ Provides an individual space.
♦ AEnhanced parent-teacher-student communication.
Features of education apps:
♦ Easy to use.
♦ User friendly.
♦ Notifications and dashboards.
♦ Multi-device logins.
♦ Live tutorials.
♦ Interactive content.
♦ Offline mode.
♦ Social media integration.
♦ Mock tests.
♦ Progress and achievement tracking.
Benefits of Using Mobile Apps in Education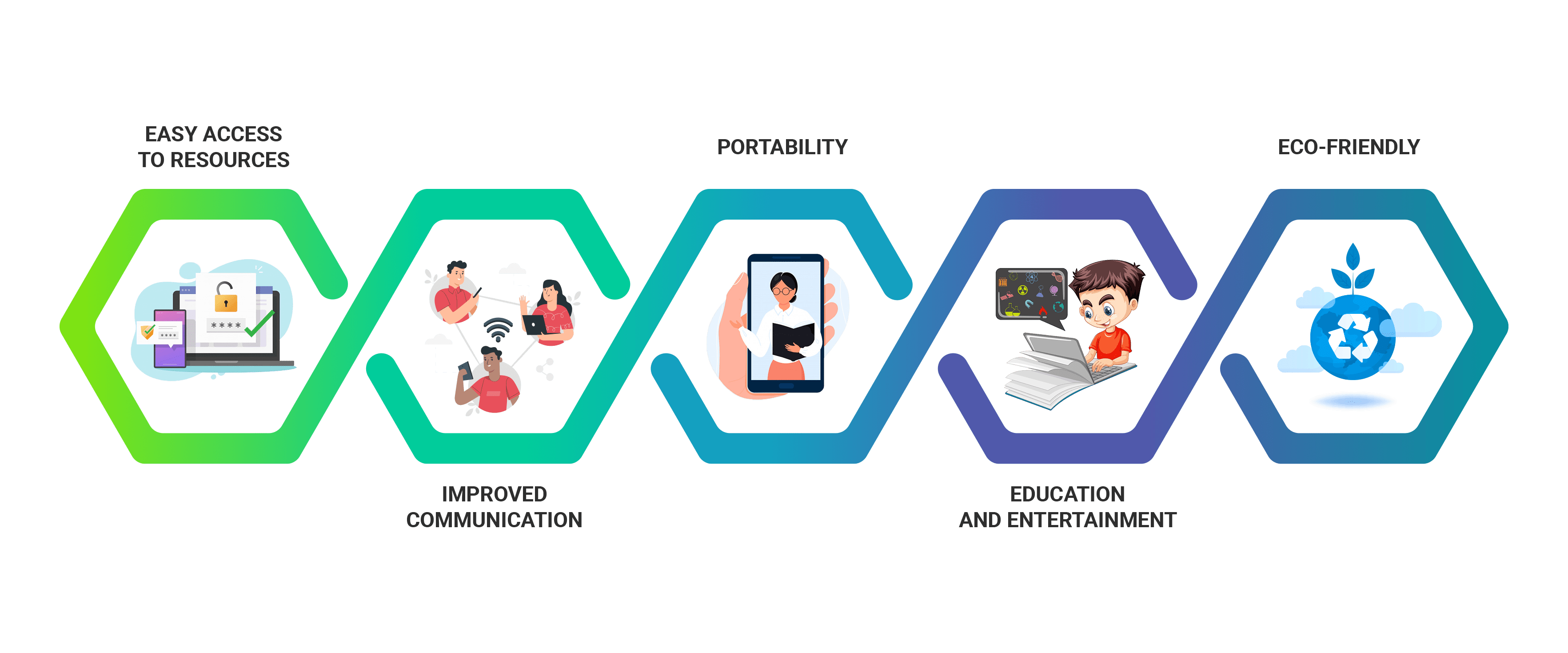 Educational apps have made the learning process more interactive and fun. In today's world, students can get access to everything from anywhere using their smartphones. There are many free online teaching apps for teachers which the teachers can download and use for online teaching purposes.
The top benefits of using mobile apps in education are:
Easy access to resources
There are educational apps which help students to find resources on any topic. As most of the apps promote child-friendly user interfaces, students of all ages can use the applications without any difficulty.
Improved communication
Online teaching apps With school apps, the teachers can easily respond to the queries of parents which enables strong parent-teacher communication. And also, the students can easily interact with each other and with their tutors.
Portability
As the students can carry their smartphones with them, they can learn from anywhere by installing education apps on their devices. Such apps also come with hundreds of educational resources.
Education and entertainment
Online teaching apps Online educational apps make education more interesting and fun by presenting lessons in the form of games and quizzes. They have replaced boring lectures and homework with interactive videos, animations, games etc.
Eco-friendly
Utilizing mobile apps in education helps to save natural resources. It helps in limiting printing notebooks, thus decreasing the number of trees cut for printing paper.
Staying connected
Online teaching apps Educational apps assist students to stay connected with their teachers for longer hours. Useful features such as live chats enable pupils to clear their doubts instantly through live communication with their teachers.
E-learning has transformed the traditional teaching and learning methods into a more advanced system. Online learning is simple, effective and more interactive than normal classroom training. Let us take a look at the major benefits that the e-learning app offers:
Best suited for everyone
Online learning courses are easily understandable for everyone. Teachers can reach out to all of the students and make sure that each portion is accessible for all of them.
Track student progress
Online teaching apps With some apps, teachers and parents can track the child's progress. They can check how the app is helping to improve the child's skills.
Personalization
With e-learning apps, teachers can cater to the individual needs of students. Each student can easily interact with their teachers using various features provided by the applications.
Systematic learning
Online teaching apps E-learning apps provide smart and systematic learning. Students get access to various resources such as educational pdfs, audio lectures, video lessons etc.
Instant updates
Students, teachers and parents can stay updated on school events, academic activities, alerts and other important information. Online learning enables the user to access updated content whenever they want.
Extra added functions
Online teaching apps Other than educational resources, some educational apps also offer options for student-related activities like making payment, attendance management, analytics, reports etc.
Quick delivery of lessons
As compared to normal classroom training, e-learning facilitates quick delivery of lessons. The app allows tutors to start and wrap up lessons in a single learning session. And also, the students do not need to travel to the institutions to attend the classes, which help them to easily finish a lesson and save more time.
12 BEST EDUCATIONAL APPS FOR STUDENTS & KIDS
When you search for 'online classes app download' on the internet, you can find a lot of apps that provide online teaching facilities. Here is a list of the top 12 educational apps that helps to survive online classes in schools and colleges.
1. MyHomework
MyHomework is an easy to use student-planner app that works on different platforms. It helps students of all levels boost their skills and make improvement in the organization. MyHomework has helped schools to digitize their tasks since the year 2009. Their application offers a free plan and as well as a premium plan for your devices. 
Key Features: tracking classes & curricular tasks, reminders, easy sync between devices, extra added features on the premium plan.
Supported Platforms: Android, iOS, Windows, Mac OS. (The application is also available in the chrome web store and Amazon apps for Kindle Fire).
Website: https://myhomeworkapp.com/
2. Evernote
Evernote is an application that helps to take notes while you are attending online classes. With this app, a user can take notes and organize them into notebooks and entries. You can store everything from personal moments to business information. The data stored is safe, secure and easily accessible whenever you want. Evernote offers three plans; basic plan, premium plan and a business plan. You can sign up for free on their website.
Key Features: organize and save notes, templates, pdf and doc search, document scanning, app integrations.
Supported Platforms: Windows, iOS, Android, Mac OS.
Website: https://evernote.com/
3. Dropbox
Now you can save your important academic files on the web using Dropbox. Dropbox is a file hosting service which offers cloud storage for its users. You will never lose the files stored in Dropbox. A user can store content like personal files, Google docs, pictures etc. You can sign up for their free plan which provides free storage up to 2GB or choose the premium plan that offers more storage space and powerful tools to secure the data.
Key Features: cloud storage, file synchronization, personal cloud, cloud content, configure documents, easy upload, web shortcuts.
Supported Platforms: Android, iOS, Windows, Mac OS, Linux.
Website: https://www.dropbox.com/
4. EasyBib
Easybib is a free bibliography generator that works on Windows and Mac. It helps you to create a piece of writing by eliminating all grammatical errors. You can scan documents for missing citations using EasyBib. You can cite using MLA, APA, Chicago and thousands of other writing styles. EasyBib offers three plans; free account for MLA only citation styles, and the other two plans with more than 7000 citation styles. You can learn innovative topics that help you to speed on citation and writing from the blogs provided on their websites.
Key Features: citation generator, plagiarism checker, grammar correction, error correction, videos, infographics, research guides.
Supported Platforms: Windows, Mac OS. 
Website: https://www.easybib.com/ 
5. SelfControl
Self control is a free application that helps you to block your own access to unwanted websites so that you can stay focussed on important tasks. You can add distracting websites to a blacklist and block those websites for a period of time. A general idea on how to block websites is available on the FAQ section on the official website. The application currently operates on Mac operating systems and does not support Windows or Linux.
Key Features: live blocklist additions, whitelist blocking, automatic cache cleaning, IP range blocking, lots of bug fixes on upgrading versions.
Supported Platforms: Mac.
Website: https://selfcontrolapp.com/
6. Any.Do
Any.Do helps you to stay organized by setting reminders, making to-do lists etc. With this app, users can easily keep track of their progress and set reminders so that they never forget a thing. With the free daily planner, you can quickly run through the daily tasks and prioritize them to keep your focus on important tasks. Any.Do offer both free and premium plans.
Supported Platforms: Android, iOS, Mac OS, Google Chrome app, Alexa and more platforms.
Key Features: calendar, to-do list, reminders, easy sync across all devices, user-friendly design, grocery list, day planner.
Website: https://www.any.do/
7.Mendely
Mendely is a reference management system that allows a user to organize their data and generate references. Mendeley Notebook assists you to collect and combine all your highlights and notes from multiple PDFs. You can easily organize and read all your references using this application. This academic social network allows you to organize your research and easily collaborate with others online. 
Supported Platforms: iOS, Android, Windows, Mac, Linux, Web browsers.
Key Features: web importer, citation plugin, workflow management, organize data, automatic bibliography generation, online collaboration, easy import of papers, access your papers from anywhere, installation guides and support.
Website: https://www.mendeley.com/
8.Doodle
Doodle is a school management system which we can consider as one of the best apps for online classes in India. Doodle helps in scheduling your tasks and organizing online meetings. The application brings teachers, students and administrators together in one platform. Using this app, a user can create one-on-one meetings and group meetings. The software also provides features such as calendar, regular and instant updates etc. Start a free trial or request a demo by visiting the website. 
Supported Platforms: iOS, Android, Windows, Mac and various other platforms.
Key Features: scheduling, updates, brand customization, manage meetings, book appointments, integration, calendar. 
Website: https://doodle.com/
9.Zoom
Zoom is the best free app for online teaching. The cloud-based software facilitates video and audio conferencing. You can integrate zoom with various learning management systems. The application provides powerful integration tools such as multi sharing, group chats, polling etc. that helps to expand classes. You can create hosted videos on zoom, that allow students to learn at their own pace. Besides the basic free plan, zoom also offers premium plans that provide extra benefits to its users. 
Supported Platforms: Windows, Android, iOS, Mac. 
Key Features: meeting, conference, technical support, webinar, chat, datasheet,  virtual classroom security, enhanced collaboration, HD video and audio classes, session recording.
Website: https://zoom.us/
10.FoxFi
FoxFI is a part of PdaNet+, which is a top android application for sharing the internet connection. FoxFi is an application that provides multiple connection options like USB, WiFi and Bluetooth. It turns your android phones into free Wifi hotspots for connecting computers or tablets in addition to USB tether. It is the best solution for sharing phone Internet since there is no limit on what kind of devices you can connect. 
Supported Platforms: Android.
Key Features: no rooting required, support multiple connections at the same time,  support connection from various tablets, support connection from devices such as PS3 and Xbox, Secured with WPA2.
Website: http://foxfi.com/
11.Audioboo
Audioboo is an audio platform that allows recording and sharing audios using an iOS device. A user is able to make a recording up to 5 min in length. You can listen to the audio recordings on Pc's, Macs and other mini devices. The app allows you to subscribe the Audioboo feed to in iTunes like any podcast. In this way, a tutor can easily share classroom information with students and parents. You can also share audioboos into social media sites like Facebook and Twitter.
Supported Platforms: iOS.
Key Features: audio recording, audio sharing, audio tagging, image attachment, digital storytelling.
12.Tether
Tether is an application similar to Foxfi which allows you to connect your device to a computer. You do not need any hotspot for the connection. And also, a user does not need to pay any additional charges to the service provider for using this app. A tutor can utilize this application when he/she needs to connect with the students through the internet. You don't need to root your device for installing and using this application. Tether does not offer any free or trial versions. Tether is available for android as well as for iOS.
Key Features: internet sharing, multiple connections, instant connection, multi-device support.
Supported Platforms: Android, Blackberry, iOS.
(Visited 10398 times, 16 visits today)