Managing school finances using an ERP
The education standards in India are on the rise. Educational institutes are moving towards a student-centric, flexible management and administration system. More and more ed-tech solutions are being released to support various sectors of school administration. 
Finance management plays an important role in the functioning of all educational institutes. It is a vast area that comprises several segments such as accounts, transactions, fee collection, payroll calculation & distribution, school funds, sales, purchases, expenses etc. So it is vital to manage daily monetary transactions in the best possible way.
Whether it is fund allocation, managing salaries or fee management, a convenient school management system is essential for the smooth administration of an institution. 
The latest technological advancements in finance management have led to the development of digital enterprise resource planning tools with finance management modules. These systems are designed to facilitate planning, control, and organizing money flow in and out of institutions. 
Drawbacks of conventional finance management systems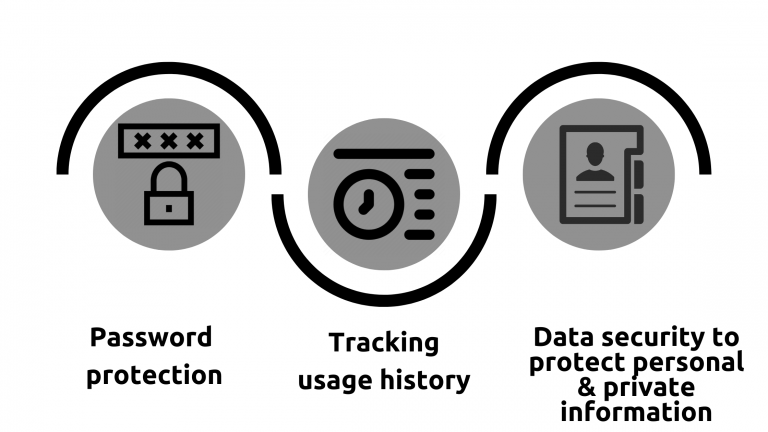 Time Consuming
One of the major disadvantages of conventional systems is that it is highly tedious. While using manual methods, the finance personnel may also feel extreme pressure in handling the daily tasks. Automated tasks performed by a device work at lightning speed, and it features various unique options that make financial management much easier than the conventional methods.  
Probability of errors
The chances of errors in manual processes are extremely high, compared to automated tasks. A simple human error can lead to delayed payments and other issues, which can be fatal for the working of an organization. Automated processes follow a set of predefined rules and thus prevent the possibility of human errors. 
Consumes resources in bulk amount 
The manual process comes with hectic file management and huge paperwork along with big expenses and consumption of large desk space & shelf space. On the other hand, automated processes use minimal resources and reduce the headache of file management. Switching to automated processes from manual processes is the best way to save money and cut down the use of resources at a system level. 
Safety and security concerns
The documents based on paper are vulnerable to security risks such as damage, theft, chances of getting lost, unauthorized access, misplacement etc. Automated applications come with built-in security features that limit the access of users by adjusting permissions. They offer numerous safety & privacy settings like password protection, tracking usage history, and data security to protect personal & private information. 
Limited access to data
In the case of manual processes, it is difficult to use the readymade data for quick references and future decision-making processes. Automated products are valuable storehouses of data that include previous records and essential details on how the school functions over a long period of time. An automated system can automatically collect the information in the background while performing an assigned task and keeping a record of the same. Such data can be helpful in decision making at both micro and macro levels.  
Fewer chances of updation
An institute's administration and internal processes are subjected to quick changes and updations. Automated processes are easily responsive to such changes while manual processes are not as quick to adapt. School ERP systems support integrations and customizations, which shows us that the administration process will always become relevant to the ever-evolving changes in the school community.    
Long queues and heavy rush
The manual process usually demands human presence and intervention. For example, there can be a long queue of parents in front of the office to buy the admission form or make a payment at the time of admission. Automated systems can help overcome this issue by allowing students and parents to make payments or perform similar tasks remotely from anywhere. It reduces the rush and contributes to a consequent reduction of stress and pressure experienced by the employees and school management. 
School Finance Management System - A fully automated ERP solution
The school finance management system is a completely automated enterprise resource planning tool that helps manage all monetary transactions in an institution. It is an exclusive all-in-one solution that assists in streamlining the critical aspects of financial management such as fee collection, accounts, bills etc. from a single platform. Institutions that have switched over to an integrated fee management solution have started realizing the benefits of a good ERP solution. With such a system in place, the administrators can make informed decisions and manage the budget better.
How can school ERP solutions help in accounting and finance management?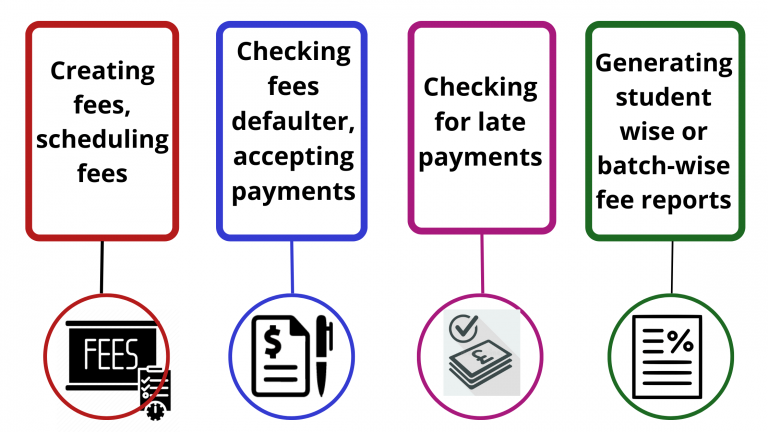 Financial management ERP solutions aim at simplifying the complex financial processes of an institution. The system helps the administrators manage the finances better and make informed decisions related to budgets. Here are the various features and ways by which an ERP solution can help school authorities to manage finances:
Fee collection
School finance management software automates the entire process of student fee collection. It assists in the easy management of all types of fees such as tuition fees, hostel fees, transportation fees, library fees and exam fees. The ERP solution can help set automated reminders, keep track of payments, and send digital payment receipts. Implementing the software contributes to creating fees, scheduling fees, checking fees defaulter, accepting payments, checking for late payments, checking for refunds & discounts and generating student wise or batch-wise fee reports. 
Staff Payroll Management
Manual handling of payroll can be a hectic task that increases the possibility of errors. With the automated school management system, you can make automatic adjustments in payroll and create an accurate system of payment. It allows the administrators to deal with salary calculation and payment by considering various options such as tax deductions, compliance issues, bonuses, overtime charges, allowances, net pay, gross pay, attendance deductions etc. The software can be customized according to the school's policies like pay policy, attendance policy etc. to calculate the final payment. 
Accounts management
A school finance management system makes it easy for the administrators to control and manage school accounts. Accounting activities and information like accounts payable, accounts receivable, bank management, expenses & revenue, fixed asset management, transaction management and financial reporting can be managed from a single app. Custom categories can be easily created for all expenses and incomes. These overall processes help to increase the financial accountability of an institution. 
Fund allocation & Budget control
With the help of a financial management system, school administrators can smartly handle their financial resources. The application can be utilized to keep track of all important financial information and streamline budgeting. It helps generate forecasts for incomes and expenditures and devise budget plans for infrastructure development projects & administration programs.  
Detailed Analytics & Finance Reports
An integrated education ERP solution helps to keep track of all records and create customized reports for all finances. This contributes to keeping transparent payments & receivables, keeping track of liabilities, generating income & expense reports and coordinating balance sheets. You can easily view, download, or share summary reports of finances, including pending fees, funds, bank balances, transactions, etc. The application can offer real-time updates that enable authorities to take corrective measures to manage finances better.   
Customizations
Financial management systems offer various customization options for fulfilling the needs of an institution. Such customizations can help in meeting school policies like discount & refund management, late payment penalties, fee structure, attendance management, scholarships, employee benefits and many more. 
The concept of managing school finances with the help of an ERP has set up new opportunities for the schools. It helps to modernize and streamline finance management by offering unique features such as collection schedules, customizable fee structures, live collection dashboards, easy cheque and DD processing, digital wallets, digital passbooks, transfer history, managing fine & refunds, automated notifications, managing staff salaries, and income & expense management
Top Benefits of School Finance ERP Solutions
Administrators and finance managers of various schools often struggle with judicial utilization of resources and other problems such as lack of accountability, lack of budget control, fraudulent activities etc. A school finance management system helps to overcome such challenges most conveniently and easily. Here are the major benefits of implementing a school finance management software:
» Easy bill collection and payment process.
» View and manage all kinds of financial transactions. 
» Well built dashboards and integrated notification features. 
» Eliminates human errors, creates transparency and minimizes redundancy in maintaining records.
» Helps in budget planning and offers flexibility for change & growth. 
» Provides user-based access control to various functions of the finance module. 
» Manages different types of finance-related aspects such as fees, expenses, cheques, passbooks, withdrawals, deposits, transfers, miscellaneous fees and payroll from one place.
» Reduces administrative burden & saves time, money, paper and other resources. 
» Aid in maintaining a unified data repository and performing routine tasks such as attendance, salary administration, accounting and inventory management. 
(Visited 157 times, 1 visits today)