WHAT ARE THE BENEFITS OF USING FEE MANAGEMENT SOFTWARE IN SCHOOLS?
Fee Management Software / Fee Management System
Fee collection and management are crucial tasks for all educational institutions. In the earlier days, school office staff used to collect the fees manually from the students and parents, providing printed receipts to each of the students after fee collection. It was tedious and hectic work for the administrators to collect and manage fees. But in today's world, educational institutions started implementing cloud and mobile-based school management software that made the process, smoother and much easier.
A fee management software is a task management system that automates fee collection and receipt generation. It also automates entries into the school accounts that help in reducing errors and eliminating duplicate data entries. The system supports both private and public schools of all sizes. The school management system software that includes fee management and accounts management modules can assist the school authorities in automating and performing various finance-related tasks. Such tasks include fee collection, customizing fee structure, setting discounts, tracking fraudulent transactions, adding fees, improving the cash management process and much more. Using this software, you can easily keep a real-time track of fee payments and other financial records. If you prefer to use a cloud system, you can transfer student details and fees details to the cloud by a single click.
It is not a difficult task for a user to integrate the fee management module with other modules of a school management software. Integrating fee management with other modules provides a wider engagement for students and parents with the institution and improved productivity for the school.
Features & Advantages of Student Fees Management System
Besides fee collection and receipt generation, the fee management system can assist the educational institution in various ways. Here are the key benefits and features that a fee management system offer:
Features:
Report generation
The advanced analytics and report generation facility offers fee receipts, fee payment reports etc. and assists in tracking the details of students who have not paid the fees.
User-friendly
The applications are easy to use and easy to implement. They offer a user-friendly interface that assists a user to smoothly navigate through the options provided in the software. 
Customize fee structure
The school ERP software helps in customizing and setting up a fee structure according to your needs.
Revenue generation
With the fee management system, you can collect online donations from alumni and other contributors. You can also easily manage your account activities, reports and records.
Data Backup
Cloud-based fee management systems provide fast and automatic online or offline data backup facilities. 
Transparency and safety
With the help of a fee management system, you can track fraudulent transactions. The application also offers specific and controlled access to the other users who are not a part of the financial management team.
Security
Financial and accounts records are safe and secure within the cloud-enabled systems. You can easily sync fee management systems with payment gateways for a secure transaction.
Notifications
Fee management applications provide real-time notification in the form of SMS, email, push notifications etc. which keep the parents and students informed about fee dues and financial transactions.
Data can be accessed remotely
You can easily access the data from anywhere at any time using your device. Various departments can transfer and import student data from devices located at multiple locations. Automated reporting increases the revenue and productivity of an institution. It also helps in eliminating errors that occur during the manual calculation. 
Avoiding processing fees 
Some banks provide corporate banking solutions for schools and other institutions that help to avoid processing fees and other similar charges for online transactions. In such a way, schools can save money by eliminating card payment processing charges. If an institution is a non-profit organization, then that institution gets even better options to save such charges.
A simple and safe fee payment system for parents 
Online payment methods for collecting fees helps parents to easily make payment through a single click and track the payments whenever they like. Parents can deposit fees through secure payment gateways, using their mobile app as well as from a PC or any other device. In this way, they can keep real-time tracking of their ward's fee payment details.
Easy accounting 
Utilizing fee management software for accounting purposes has really helped educational institutions to save time and manage finance effectively. It assisted various institutions to reduce paperwork and issue receipts through email, SMS etc. The fee management system can generate student wise or class wise fee collection reports and account-related reports that assists the finance management faculties to manage the accounts smoothly.
Besides these advantages, a fee management system also offers numerous benefits such as generating a fee structure, cancelling transactions, defining fee slabs for various standards, defining fee discounts and much more.

 A fee management system can perform various functions that assist the organization in maintaining a better fee management process. Here is a list of the top key functionalities that a software offer: 
Daily Fee Collection
Whether it is tuition fees, exam fees, a penalty of money or the bus fare, a fee management software can facilitate daily collection of fees and keep the record of the same. You can easily generate and view detailed and short records of fees that include, dues, paid amount and outstanding reports of daily fee collection. 
Fee Report 
Report generation is another essential function of fee management software. The software provides assistance to the administrators by generating fee reports for various sections of payment such as bus fees, tuition fees, admission fees etc. The application provides financial reports such as daily, monthly and yearly collection registers, student wise reports, records of paid and dues, receipts of fees collected, admission related financial reports etc. 
Pending Fee Report
Manual calculation of fee paid and dues can lead to chaos and errors. You can now solve this issue with the help of a fee management system. The software not only provides details on the fee paid but also generates pending fee reports that can assist you in finding the students who have not paid the dues.
Fee Receipts Generated
A user can easily automate fee collection and generate receipts using a fee management system. Most of the applications provide easy invoice management which allows you to generate and print receipts for all of the transactions. Cloud-based software facilitates synchronizing real-time data and sending notifications to the parents through e-receipts or any other means. 
Summary Report 
The fee management system is capable of managing every data related to student payment and providing short or detailed summary reports on that. Admins are able to maintain fee details and generate summary reports for each student which they can download/ export into different formats like pdfs and excel doc. 
Program/Course Summary Report 
The software helps to generate reports on fee details of various programs/ courses. In addition to tuition fees, some courses have non-tuition fees and such fees may vary by program or course. Generating reports on those fees along with the academic course fees is beneficial for the students and parents in tracking the payment.
Fee register
A register is essential for each institution to store the fee payment details of all students. School fee management applications offer options to keep a record of all fee payment details of each student. Thus you can eliminate the effort of manual record keeping and eliminate duplicate data entry. 
Other customized reports
Most of the fee management applications offer customized reports where you can create reports with in-depth filtering features. Through such reports, the administrators can get a bigger picture of financial management in their institution.
Add fee concession/scholarship  
Fee management systems help you to create fee structure and reports for different students with a concession or scholarship details. You can generate reports based on fee structures as applicable to courses across all the departments, scholarships and fee concessions. You can also add student wise details of those who are eligible for such concessions.
How does SkoolBeep ease the process of Fee Collection in Schools or Colleges?
 SchoolBeep's fee management software provides an easy and convenient way for schools to manage the fee collection process. Our application offers a user-friendly interface that allows the parents to track the daily activities of their wards. With SchoolBeep, you can easily automate reminders, receipts and announcements. Our application is available on iPod, iPad and all Android devices. We can assist you in simplifying the fee management process and speed up the fee collection process with student loans and online payment from the app. The application streamlines all the school-parent communication into an integrated system. We currently serve 900+ institutions with more than 6 lakhs students with our simple and efficient school management software. 
Our easy to use and fully automated fee management system offers an integrated online payment gateway for paying fees. You can automate the entire payment process from notice to receipts. We offer real-time payment summary and reports for each and every payment process. With the application's ability to handle complex fee structures, it is much easier for an institution to eliminate pilferage.
SchoolBeep provides a convenient way for parents to avoid school visits by making a comfortable fee payment from their home. With our unique features like instant receipt generation and acknowledgement for the fee paid, we make it convenient for schools to automate finance management. We also offer additional benefits such as timely reminders on fee payment, secure payment, fee payment from mobile app, integration, analytics and report, multiple account settlement and much more.
How can a parent pay fees online using SkoolBeep?
 SchoolBeep helps you to digitize fee payment and other important academic activities of a school. The application is available on Google play store and the apple store. SchoolBeep offers a safe and highly secure payment platform with multiple modes of payment. The secure payment gateway integrated into SchoolBeep app enables faster collection for schools. 
All parents with smartphones can easily make online payments using the SchoolBeep app. After logging in and navigating to the fee payment section, you can find a list of fee amounts and due dates of your wards' fee payment. From there, you can make the payment or apply for a student loan. After proceeding to make the payment, select the payment method (UPI, net banking, debit card etc.) and enter the required details. In this way, you can complete the payment successfully. After payment completion, the user will get options to check receipts from the fee payment menu. Our fee management software also sends automated receipts upon successful completion of payment through the school app. 
Our application provides all forms of payment such as cash, cheque, direct online transfer to school bank accounts, cash wallets etc. Parents can choose the payment method and pay according to their convenience. We support all the leading banks in India, so you do not have to worry about making online payment through our app. We also support digital payment interfaces like Google Pay and PhonePe. Our app offers 24/7 online payment assistance so you can easily make payments whenever you wish. With features such as instant receipts and reminders, online payment is an easy option that saves your time and effort.
Advantages to School/ College Management
 A fee management system offers numerous benefits to educational institutions. It automates the administration process and speeds up the workflow by reducing errors. Following are some of the major benefits that a school fee management system or college fee software provides to the administrators of a school/college. 
Complete control over the administration
A school administration software helps to manage each and every activity from a single integrated system. 
Permission and Data Security
An administrator can decide and set permission and access options to each user. He/she can assign specific roles to each faculty member. The app also provides features for keeping all the financial records and other administrative data safe with the management.
Communication 
The application allows effective communication between the school, parents, teachers and students. With 24/7 access, the system lets remote communication between the management and faculties from anywhere. Using such an application, the management members can always remain in touch with the staff and students.
Reduce manual work
Implementing an ERP solution reduces all the paperwork and manual tasks of an institution. It not only saves time but also helps you to save resources by eliminating the need for paper. You can rely on digital media for reports, receipts, analytics, forms etc. The application provides push notification, email and SMS service to send and receive reports. 
Fee management systems also offer other advantages to the management as an easy and systematic approach for updating various aspects of the organization, complete automation of all operations, better-informed decision making, zero redundancy in managing records and much more.
Advantages to School / College Staff
 Implementing a Fee management ERP helps the staff to work at the highest level of their efficiency. It boosts communication between the staff on various aspects like fee collection, report generation etc. 
The top advantages are:
Auto calculation of fees
The application integrates various fee structures into a centralized fee collection tool. The staff members can view and check the fee paid and dues of each student in a class. The system provides class-wise reports associated with fee payment. 
Custom Fee Receipts
The fee management system can automate and generate receipts based on your preferences. You can export such receipts into different formats for printing purposes. The application can quickly generate bulk fee receipts without any difficulty. 
Collection Reports
You can categorize the income collected each day into different sections and generate reports based on that. The application assists in generating reports for daily fee collection, monthly fee collection, yearly fee collection, student wise fee collection, class-wise fee collection, admission fee collection, exam fee collection etc.
Manage class information
Teachers can manage the information of students including fee payment details. Auto calculation of various fees helps to check the number of students who have paid the fees and who are still left to make payment. 
Easy online transactions
A student fee management system allows payment through different gateways. When students submit their fees online, it is easier for the staff to collect it and make records of it. The reports generated include all the important details which you can access and view anytime you want. 
Control finance
With the school management system, you can easily control all the financial transactions of your institute including accounts and fee management.
Advantages to Students & Parents
 Fee management applications make it uncomplicated for students and parents to pay the dues and keep a track of fee payment. Here are the top advantages that a student or parent can enjoy while using a school fee management software:
Track payment
Parents can make payment online via different payment methods such as debit card, wallet, net banking etc. It provides a safe and simple method for making payment. The app also allows them to track the records of payment whenever they want. 
Pay from anywhere
Fee management software allows parents and students to make online payments from anywhere at any time. They do not have to go through the hassles of making manual fee payment. 
Notifications & Reminders
The app offers notifications and reminders regarding fee payment in the form of real-time notifications, push notifications, email, SMS etc. Online reminders can offer numerous benefits such as keeping the parents informed about the last date of payment.
Quick payments with auto-generated receipts
With online payment systems, parents can make faster payments with just a few clicks from their mobile devices or browsers. The software can generate automated fee receipts after the completion of fee payment.
Safe and secure payment
A fee management system makes it feasible for the parents to pay in a secure environment. They have the facility to make and check payments by logging into the portal with a secure login password. The systems guarantee data security through every transaction. 
User-friendly Platform
Online fee management systems are customizable and they also provide a user-friendly platform. It makes it much simpler for the students, parents as well as the administrative staff to manage payments and process error-free transactions.   
Besides opting for fee management software provided by various IT firms, the school staff with expertise in software development can also develop fee management system projects by using programming languages such as C and Java or download such projects from various websites. Such a system can help in easy fee calculation and record keeping.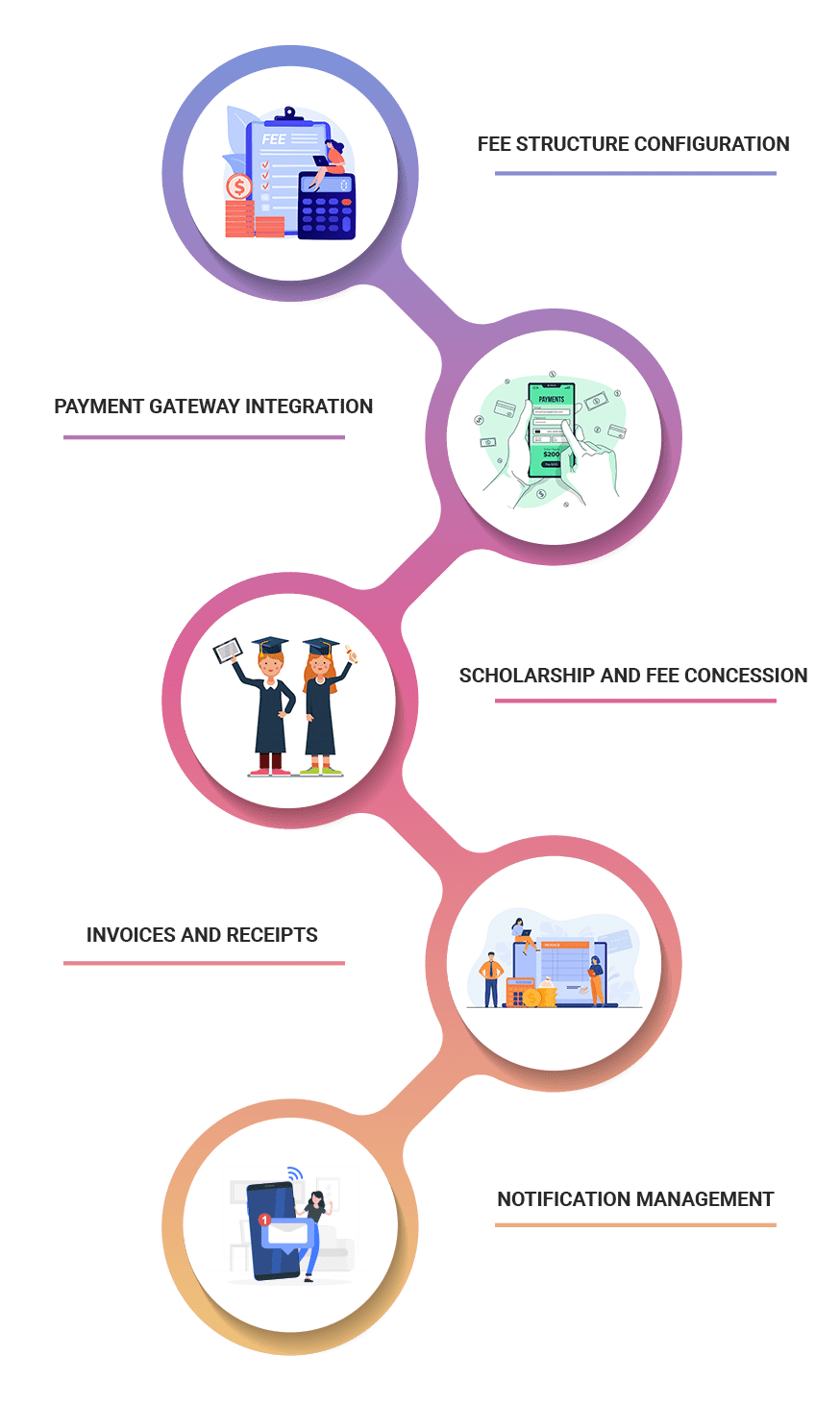 Fee management is one of the most important functions of a school. A fee management application supports the collection and management of fees paid by the students, as well as the entire accounts management process including earning and expenses. Most of the school fee management software in India include features and modules for managing fee collection, records, scholarship, configurable fee structures etc. With such features, you can set a configurable fee structure for various students, manage tuition fees, transport fees, caution deposits, exam fees etc. The modules can also assist in accounts management and receipt generation. 
Here are some features/modules that majority of the premium as well as the  free fee management software offers:
School fee collection and management
The office staff and administrators are able to collect and keep a record of fees and access them whenever they want. The app allows online payments from mobile devices which further automates the entire collection and reporting process along with updating student payment profiles. 
Fee structure configuration
With the help of financial management software, you can customize and create your own fee schedules. This feature enables a user to manage optional fees like sports fees and hostel fees which may vary from time to time. You can customize the collection parameters and create multiple fee heads from every batch.
Payment gateway integration
Parents can make payment through different payment gateways as mentioned earlier. Most of the applications support popular banks of India, so a user can easily pay using credit cards, wallets, net banking etc. The application also provides instant receipts which you can view and download/export right after making the payment.
Scholarship and Fee Concession
The application offers the most flexible solution for managing scholarship and concessions applicable to the eligible students. Decision-makers can use the tool provided by the software to make faster and better decisions on scholarships.
Collection Schedule
With the app, you can define a collection schedule and fee details for each student. It assists in managing fee categories, amount of fee payment and due dates. Office staff can schedule fee start date, end date and class-wise fee allocation.  
Invoices and Receipts
The app provides you with a custom invoice options for tuition, hostel, library, transportation and all other forms of fee payment. Automatic generation of receipts and invoices is a notable feature of all fee management systems.
Fines and Security Deposits
A fee management software provides the best way of collecting and managing fines and refundable security deposits. The app boosts your financial ability to manage student's one-time deposits. 
Fee Refunds
School fee management software takes complete control of finance management. The system offers additional benefits like fee cancellation and refund management. You will be able to find options for managing both common and individual fee tracking records.
Student loan
Using a fee management system the students can easily apply for loans. The application also provides options to create instalment plans, add discounts and define fee structures.
Notification Management
Notifications in the form of SMS, email etc. ensures swift communication between staff, students and parents. This feature allows the app to send individual notifications, group notifications and bulk messaging related to fee payment.
(Visited 13934 times, 3 visits today)