Learning Management System
LMS or the Learning Management System is a software application that helps handle and automate different aspects of the learning process. It manages, updates, and delivers educational courses and training programs. With the help of an LMS, teachers can create courses, conduct assessments and track student progress. 
This single shared educational system can unite students, teachers, parents, educators, and administrators. Users of the software can use its salient features like content creation & sharing, communication, flexible reporting, assessments, data tracking, automated notifications and many more.
Learning management applications can help an organization reduce training costs and provide easy access to information. They also offer various benefits like providing a more engaging learning experience, personalization, multimedia learning, and safe information storage.
Learning management software usually comes in installed applications and web-based solutions. They can be hosted locally on an organization's server or online in the cloud. 
Risks associated with LMS
The development of learning management systems for supporting the activities of schools, universities, and colleges has helped the educational institutions with great benefits. However, it is necessary to analyze the benefits of LMS and the risk perceived by its users and the institutions so that the challenges arising due to the risks can be easily tackled and teaching methods can be improved to a great extent.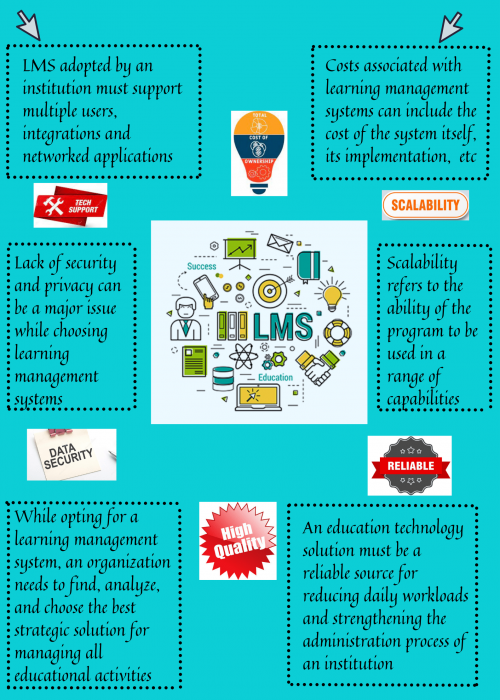 Technology support
LMS adopted by an institution must support multiple users, integrations and networked applications. The smooth functioning of the application requires basic system requirements that include software and hardware components. And also, in the case of a hosted solution, the authorities might need to install the hosted LMS on the school's server. The organization can store all in-house data. However, challenges can arise while deploying a hosted LMS because the task involves checking the system's compatibility with the institution's existing network and software architecture. A cloud-based solution does not have such challenges, however technical requirements needed to support security features and integrations are still factors of concern.
Cost of Ownership
Costs associated with learning management systems can include the cost of the system itself, its implementation, upgrades, maintenance, licensing, hosting, tech-support, back-ups, course development, customization etc. The total number of users, subscriptions and integrations can also add to the cost. So, an organization needs to choose a software solution that comes at an affordable price and shows the transparency of future expenses. Using a cost-effective LMS with exceptional features and no hidden costs helps reduce the total cost of ownership. 
Quality 
While opting for a learning management system, an organization needs to find, analyze, and choose the best strategic solution for managing all educational activities and provides easy integration with other digitized management solutions. Apart from achieving organizational needs, a high-quality system provides user satisfaction, facilitates better learner & instructor, provides engaging content, and ensures that online learners receive a quality education. Most of the premium LMS software packages come with essential high-quality features, while free and open-source software may lack some of them. Choosing a learning management system with the poor quality might bring threats like lack of security, transparency, flexibility and poor learning experience. 
Reliability 
An education technology solution must be a reliable source for reducing daily workloads and strengthening the administration process of an institution. Reliability is a serious issue of concern. This parameter characterizes the ease of performing various functions and updating content. Effective and error-free working features, proper technical support, high availability hosting architecture, smooth and easy to use the system, students' acceptance levels & learner engagement and better server response time are some of the performance standards that help to measure reliability. Cloud-based ERP solutions are generally found as more reliable than open-source systems. 
Data Security
Lack of security and privacy can be a major issue while choosing learning management systems. Data security involves protecting information stored electronically and implementing access control. Major risks involved in information management are unauthorized access to the assets of the system, integrity violation, not set privacy & security measures, the introduction of malicious programs that steal data, data trespass, leakage of information and exploitation of privileges. Identifying the security requirements depends on the school's policies; however, the LMS system to be implemented must be able to provide the institution with secure code and processes, data encryption in transit, regular & independent tests and adherence to industry standards. 
Scalability 
Scalability refers to the ability of the program to be used in a range of capabilities. The software must have the ability to expand the number of users, data, or addition of programs, including customizations and integrations. It should be able to tolerate several users accessing the system simultaneously without any delay in the functioning of the system. Most of the integrated cloud-based applications are scalable, and they work the same independent of the number of users or integrations. A scalable LMS will continue to accommodate your organizational needs, saving time, effort, and resources. Choosing a system that can adapt to the growing needs of your school will be a key component in your organization's growth.

Ease of Use 
Usability or ease of use is another important factor of consideration while choosing an LMS. It indicates that the system should be beneficial in helping the users achieve their tasks (perceived usefulness), and the users should not require much effort in utilizing the technology solutions (perceived ease of use). The UI and UX of the system will strongly impact determining the usability and overall satisfaction of the users. Important UI and UI components like flexibility, aesthetic designs, consistent menus, appropriateness of media and tools, error prevention, user control, feedback & responsiveness, alignment with specific learner needs and accessibility can help achieve effectiveness, efficiency and user satisfaction. To look at the usability of an LMS, you will need to identify your users, their goals and how effective the system is in meeting those goals.
LMS in a Hybrid environment
Hybrid learning methods can be easily integrated with online learning platforms like LMS. Such a process helps educators equip the right strategies for an easy transition to online and face-to-face teaching. Instructors can use the LMS for content delivery, creating customized tools for learning and providing a space for interaction. The benefits of implementing LMS in a hybrid environment are many. Here are the major reasons why such integration can be beneficial for a school. 
Teachers can assist students in their learning process
The right LMS offers the students a smooth anytime-anywhere learning experience. With the help of learning management systems, teachers can personalize learning objectives for all students. The system allows teachers to maintain and easily update learning materials, provide personalized lessons to both online and offline students, allow for collaboration between online & classroom students, easily integrate added learning tools and provide other resources for support.
Need of notes & study materials
Learning management systems in a hybrid environment can provide essential knowledge to the students in the form of lecture notes, live tutoring sessions and online lectures. Students present in a classroom benefit from receiving additional study materials in the form of digital content. Tutors can make learning more engaging with different learning materials and personalized lessons. 
Integration with offline teaching 
Hybrid learning aggregates teaching by technological means through integration with the traditional format. Learning management systems with offline access benefit from continuing their learning even when the users are offline. Utilizing a dynamic learning management system in a hybrid learning environment will help to improve the learning process through easy learning management and delivery of quality content. The system can help keep digital portfolios and centralize materials for the students.
Essential Core Features of LMS
Major features provided by the learning management systems are:
Course creation 
Learning management systems have different tools that facilitate the creation of courses as per requirement. It allows the user to design and deliver courses for various training needs. Course creation involves creating digital content, utilizing different strategies to share the information with your learners and organizing learning activities. Such preparations can include interactive features and click-based activities such as texts, graphics, audio clips, animations and questionnaires. The course design will determine the teaching and learning experience of instructors and learners.
Tests/Progress Tracking
LMS offers options for conducting evaluations and tracking the progress of the learners. The main objective is to manage learners by tracking their progress and growth across various learning activities. While designing tests, the instructors can set time limits, question types, review options, display of scores, grading for individual questions etc. 
They can use means like regular mock tests, daily assignments and the generation of certificates for the assessment of students. 
Analytics
Learning platforms provide reporting and analytic features that help to process performance data. The system automatically generates and displays metrics in texts, graphs, charts and dashboards. Some LMS software allows users to create customized reports and their own templates. Data analytics generated by the LMS can be used to bring improvement in the learning process. 
Mobile App
Learning management systems have been developed by keeping usability and sustainability in mind, so most systems support up-to-date mobile applications for faculty and students. Such user-centered mobile apps offer a contemporary look and make it convenient for the users to log in to the system from anywhere at any time according to their convenience. They also offer advantages like ultimate flexibility, portability, higher engagement rate and real-time feedback. 
Desirable feature integrations of LMS
LMS is an e-learning platform where learning is organized and managed within a single system. The system can be integrated with other tools and ERP solutions that offer the necessary resources to run and manage school education.
Fee Management
Online payment of fees is made through payment gateways, which are third-party applications facilitating instant payment. They take care of all payments securely in the background. School ERP solutions such as LMS and SIS can be easily integrated with payment gateways for making instant payments. LMS software can help manage fee payment by providing unique features like payment revisions, refunds, invoices, transaction history and customized reports. 
Multiple users / Access control
Learning management systems support multiple user access and user management features such as user accounts, authentication, customized roles and permissions. You will be able to add as many users depending upon the plan or licensing fee. The users, including students, teachers and administrators, can register themselves and get separate login portals to access the system. The admins will have full access to the system, while teachers and students can access content based on permissions. 
Homeworks & Assignments
Modern technology has made it possible for instructors to provide assessment materials such as homework and assignments via digital platforms. With the help of a learning management system, the authors can even develop and modify homework they want their students to complete and assign it directly to the students. The registered students can access the assignments from their login profiles and follow the instructions from their tutors to complete their tasks or make submissions. Assignments, submissions, grades and communication all flow through the LMS.  
Communication with teachers / Doubt clarification
With the LMS messaging functions, students can easily communicate with their teachers. Teachers can clarify their doubts and provide instant feedback to the students. Communication can occur through various platforms such as text messages, forums, discussion panels, audio/video messages, notifications etc. Integrating multiple communication channels with the LMS helps in increasing the flow of communication and creating a learner-centric pedagogy. They combine real-time communication features such as screen sharing, file sharing, video conferencing, etc., enabling enhanced student engagement. 
School calendar integration
To help schools better understand upcoming events and know activities planned for a day, digital learning platforms benefit from integrating school calendars by connecting them with those platforms. For an educational institute, integrated digital calendars can help organize course events and support activities like planning on academics, setting reminders on important events, sharing important upcoming dates, importing data into calendars, exporting & sharing calendars.
To sum things up, it is obvious that learning management systems have found their place in the K-12 institutes. Each organization develops the LMS according to its requirements. However, it is important to see that the application is user-friendly, feature-rich and capable of meeting all teaching and learning needs. 
(Visited 428 times, 1 visits today)