HOW TO CONDUCT ONLINE ASSESSMENT EFFECTIVELY?
HOW TO CONDUCT ONLINE ASSESSMENT EFFECTIVELY?
We all have been through times during our student life, where we have been subjected to many assessments. It is the process of collecting and discussing information from many sources to get an insight into what students know and understand!
An assessment is a collective endeavor of what students understand, how they process their understanding and finally, how they implement it! Educators use various methods to evaluate and measure the learning curve and skill acquisition of a student. Every individual has some strengths as well as weaknesses. As times have progressed, people have been trying to inculcate and expose their children to assessments early on in their lives. Even the parents of a four-year-old going to a kindergarten try to introduce the importance of assessments at such a tender age via toys or coloring books.
Thus, assessments form an integral part of education. It affects decisions about grades, placements, curriculum etc. Apart from a student's academic needs, it is also important that a student thinks critically and learns to analyze and make changes accordingly. It evaluates the progress of a student, helps to understand what teaching methods or approaches are the most effective, what needs to change, what performance demonstrates understanding, what can be done to help the students more, etc.
What are the basic types of assessments?
Following are the basic types of assessments: –
>> Diagnostic assessment

They serve as a unit to detect how much pre-loaded information a student has about a particular topic. There is a lot of unlearning required to mend some ways of a student the way he/she perceives some content or information. Diagnostic assessments are bound to happen at the start to gauge the existing knowledge a student has.
>> Formative assessment

It refers to a spectrum of methods that teachers use to evaluate the way a student comprehends a topic, the learning needs, skills that are difficult to come to terms with by a student, etc. Formative assessments are for learning and are integrated into the teaching and learning process. It could be as simple as a professor asking students to raise a hand to know whether they have understood the topic or as intense as instructing a student to complete a self-assessment. There are various aptitude tests online, which a student can take!
>> Summative assessment

A summative assessment is evaluated at the end of a defined instructional period. They are used to evaluate students' learning and their year-round academic achievements. They are a traditional way of determining students' progress and are recorded as grades or scores. We all are familiar with the online test method. There is an online aptitude test for determining the accountability of a student. Summative assessment method plays a key role in this entire process.
What are online assessment tools?
We all are familiar with the age-old algorithm where people emphasize on grades. Grades matter, but so does an understanding of the topic. Online assessment tools are a necessary part of remote learning education. If the teachers and professors have a firm hold on a student's learning graph, he can do wonders in life!
Online assessments tools can help in the following ways:
> Real-time grading through applications and online quizzes.

> Teachers can check who logged in, who is keeping up with the pace of learning etc.

> A student can take online exams using assessment software.
Following are some important online assessment tools: –
>> Google forms

It is a go-to tool used by the teachers as teachers find it simple to create small quizzes or multiple-choice questions.

 

>> Assessment Requirements

An assessment is always based on the performance of an individual student. They are students in groups; each student must be analyzed separately as everyone is competent in their domains.

There are two things one should take into consideration, performance evidence and knowledge evidence.

One must avoid redoing the assessment of repetitive tasks. The analysis will determine where some methods are appropriate and where some changes or modifications are required.
Following are the requirements of an assessment: -
Achievable
It is especially important for a student to realistically develop a niche for himself and work towards his goal. This must be appropriate to the existing knowledge. 
Unambiguous
The very essence of learning lies in the fact that learning outcomes should be easy for everyone to understand who use them. This group includes everyone from students to teachers.
Essential
Learning outcomes are the baseline criteria for passing a particular unit. There must be a minimum requirement for passing a unit. Right vocabulary and appropriate concepts should be used at the program level. It is essential that in the end, a student must exhibit a clear understanding of the topic.
Feedback
Feedback is usually written, rather than verbal so that it is accessible to a huge audience. It is mandatory to determine the quality of assessment of learning of a particular topic. There are different types of talent test conducted online to determine the calibre of a particular student. This is feedback for online testing.

The internet is a smorgasbord of opportunities. Everything is a click away! One is likely to stumble upon many tips for online assessment. An assessment is a collective embodiment of many tasks and evaluations. It might differ from skills to skill set, but the premise of the assessment remains the same.
Following are some important tips for giving an online assessment: –
>> Prepare well!

It is essential to prepare a blueprint of the curriculum you have studied. There are various online tests which are uploaded on the portal. They can be online assessment, online reasoning test, online skill test,etc., depending on the test one is looking forward to taking.

 

>> Do assessment exercises

It is an old saying that practice makes a man perfect! First, get to know what an assessment encompasses and then go for the exercise. Some exercises or assessment tests might challenge your intellect and give you a broader understanding and perspective of the topic.

There are various aptitude practice sites which enhance one's way of thinking.
>> Practice IQ tests
There are various IQ tests one can take. By taking extensive training, one can easily score and continue to improve so that one is familiarized with his/her inclination and level of understanding.
These are some important tips one should be taking into consideration while preparing for an assessment. It is of utmost importance that each tip is analyzed on war-footing.
Tips for evaluating student learning online
There is a major paradigm shift in the way exams used to be conducted. The student assessment has changed over the years. Earlier, there used to be centers for career counselling or aptitude tests. There are various aptitude practice sites on which one can practice regular assessments. 
It is essential to keep a check on online activities. The internet is a sea of opportunities. One can host webinars via web conferencing solutions. There is also an option for conducting polls.
There are various e-learning tools one can make use of while learning assessments online.
Online assessment tools and platforms
We all are familiar with the kind of pandemic we have been grappling with recently. It caused a menace, but the education sector bore a little less brunt of it due to the online assessments tools and platforms' availability.
Following are types of assessment tools in education which are at the forefront of the online assessment movement: –
>>SkoolBeep

It is one of the most recommended tools for the teachers. It saves time and helps teachers create detailed assessments without any knowledge of quiz creation. It is an extremely reliable software creation tool which has a special focus on education. There are various customization features.
>>The Answer Pad
The Answer Pad is a student dialogue system which highly focuses on real-time assessments. It has a unique option which enables the teacher to register for free, create their class and add students to their class. It is a multi-platform dialogue system.
The unique thing about Answer Pad is that it is free for up to 200 students over eight classrooms.
>>Crowdsignal
It allows one to create and manage polls and ratings from the word press dashboard. It has a special function wherein one can choose from 20 different styles for the polls. There is also an option for viewing all results for the polls. All the polls are fully customizable.
>>Edulastic
Just like the other two online assessment portals mentioned above, Edulastic is also known to cater to every need when it comes to online assessment tools. It steadfastly identifies the learning gaps, gives students extensive assignments, and monitors progress to ensure that the students are on track.
>>Proprofs online assessment software
This one is indisputably the best online assessment tool on the internet! It gives us the liberty to pick the type of answers we want to receive. It has an automated grading and scoring system.
>>Easy LMS
The online assessment platform has a specialization in educational technology. It gives 100% customer support assistance if needed. The software is extremely user-friendly and very intriguing. Even a novice who is not a pro at coding can keep up with syllabus content.
>>Examsoft
This one is a renowned assessment software. It is complex software and has an advanced assessment program. If you are looking to get extensive knowledge about any topic or subject, this one is the one you have been looking for!
>>Cognician
It is an e-learning platform which is mostly used for personal development. They have incredibly unique business acumen and are known for straightforward quiz creation. One need to have any prior knowledge of programming.
>>Glider
The one thing that makes this software tool to stand out is that it specifically allows you to create online assessments for students or employees. The technology that this software uses is Machine Learning and AI technology. One can pick 40 different question types from the question this platform has to offer.
>>Nearpod
It is probably the most recommended tool for the teachers. There is an option for instant feedback, and each topic is calibrated according to a specific subject.
>>CodeSignal
It specializes as a programming education tool. It gives the teachers a valuable insight and yearns to create a fun learning experience.
There is a never-ending debate on which app is best for online teaching; well, one can use any of the applications mentioned above.
Advantages of using online assessment tools to evaluate students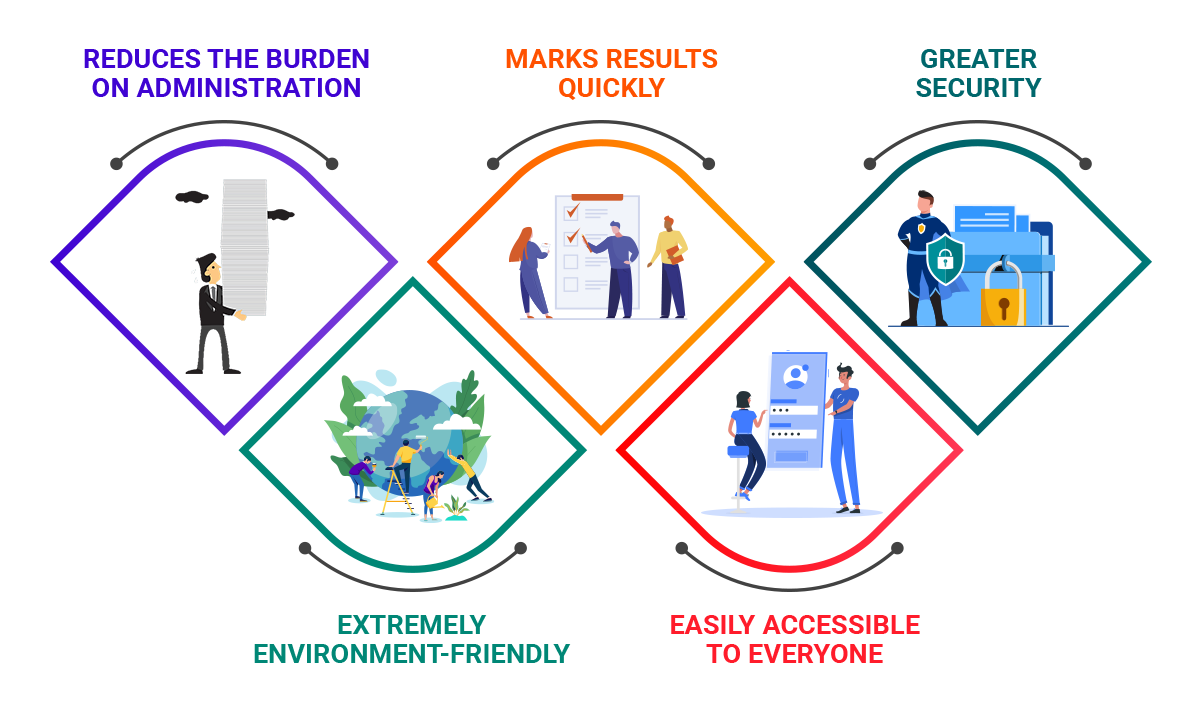 Technology has proved to be a boon for all of us. We all benefit greatly from technology and can work from the comfort of our homes without any discrepancy if we have internet access.
Following are the advantages of using online assessment tools:-
>> Reduces the burden on administration.
Printing and circulation of exam papers can be a very tedious task. If a student uses online assessment tools for giving exams, the burden of the administration is also reduced, and the students need not relocate themselves to give exams. So, it is a win-win situation.
>> Marks results quickly.
The online assessment tools have software which helps in tallying and displaying the results quickly. In some cases, results are available almost instantly if needed. 
>> Extremely environment-friendly
One is no stranger to the fact that a huge amount of paper is saved when one makes the use of a software tool. The printing and transportation charges are also waived off!
>> Greater security
When you write an offline exam, there is only one invigilator. It becomes difficult for him to manage everything all by himself! When someone gives an exam online, the onus is also less, and there is greater security as all the exam papers, marks and results are stored digitally, so there is no scope for any mistake to happen.
>> Easily accessible to everyone
When one runs assessments online, it is easier for everyone to give tests online. People having disabilities can also give a test at the comfort of their home!
How to effectively use Educational Assessment Tools
Educational assessment is the process of using data on the knowledge, skill, and attitude to improve student learning. The assessment focuses on the academic program, the institution, and the educational system as a whole. There are so many measures taken to improve the online educational assessment tools. Despite that, some areas are likely to be missed out on! There is a lot of light which must be thrown as there is a lot of scope for improvement. 
Following are some measures which need to be taken to improvise: –
>The software needs to be updated from time to time for the smooth functioning of the platform.
> 24/7 Chat support or online technical assistance should be given if the students experience any discrepancy.
> If there is the loss of electricity, an option of auto-save must be provided to avoid the further hassle, so that the student can pick up from where he left off!
> The software should be user-friendly, and there should be detailed steps for troubleshooting if the functionality is hindered.
(Visited 1779 times, 5 visits today)