Benefits of Student Database Management System
Careful planning is essential to manage educational institutions these days as they have evolved into complex entities with multiple campuses, many departments, different sections, and a large number of students. School management software with a robust student database management system (SDBMS) would be very helpful in this regard. The SDBMS refers to a computerized system used for record-keeping purposes. It is a storehouse of computerized student data files. The SDMS helps educational institutions to define, store, retrieve, and edit/update information available in the database on an on-demand basis. Information in the database may be anything that is of importance to a particular educational institution.
Management of a school is by no means an easy task. The processes involved can make anyone feel overwhelmed, especially when they are disconnected. A school SDBMS app brings together all of the processes on a single dashboard. This makes the management of various processes simple and easy. In addition, it enables the school management to keep students, parents, and teachers on the same page through email/SMS notifications both on mobile and web. School admins can run the institution right from the school app, teachers can add value to their teaching, empower students to reach their goals, and even make parents their partners.
Student Database: Quick and Simple Option for the Management of Large Data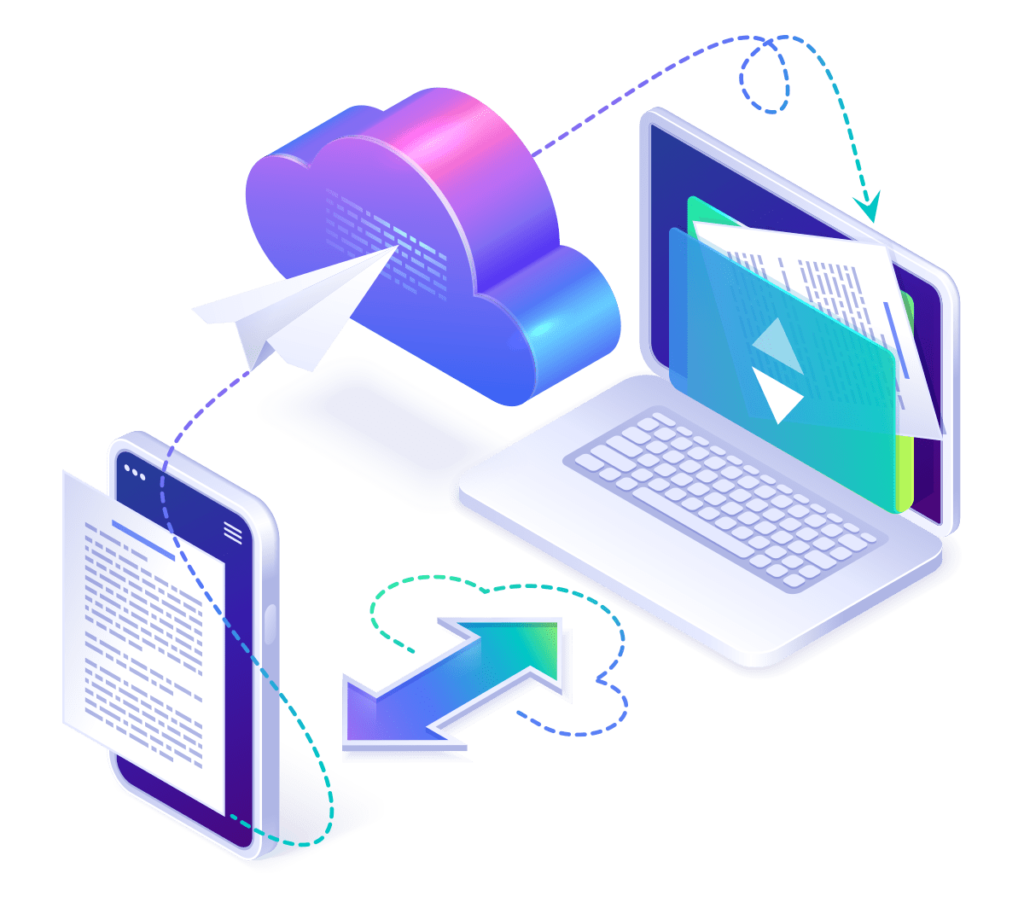 As far as schools are concerned, the need of the hour is to move from the traditional paper-based system to an automated student database management information system. In its basic form, it makes use of student database software for maintaining the records of all the students of the institution and performs complex functions. The student-related data maintained by the system ranges from fees and financial data, examination records to school bus fleet tracking and management, library management, and usage of the computer lab, laboratory, and other facilities. An SDBMS simplifies the work of a school's administration department.
The benefits offered by an SDBMS include the following: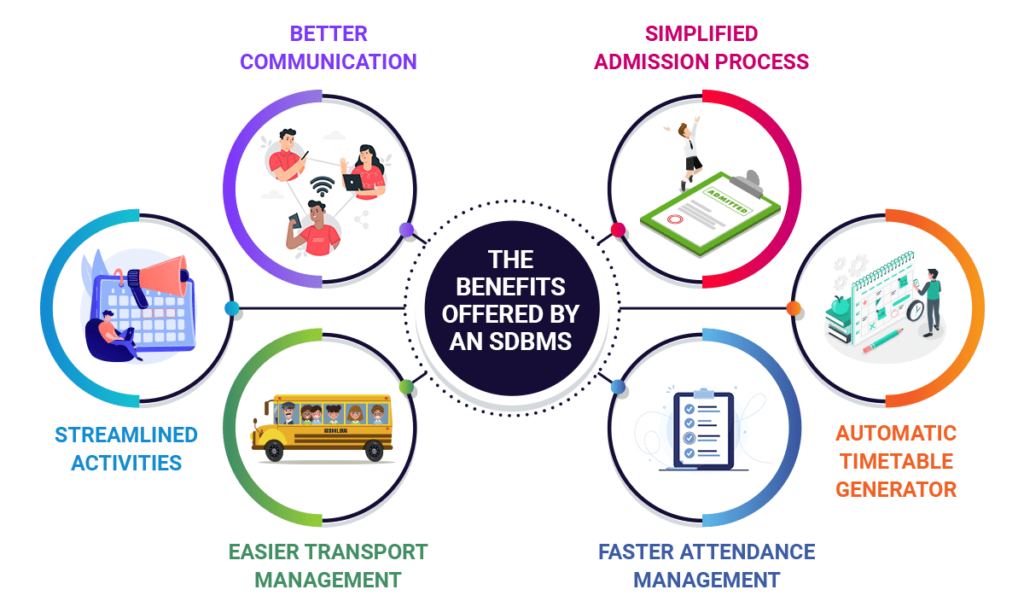 Streamlined Activities
The SDBMS allows users to set up reminders for the different events and activities that are needed to be organized by the school's administration department. Apart from giving comprehensive information on a computer screen, it highlights all of the essential data. This improves productivity with minimum effort.
Better Communication
A student database information management system makes communication between students, parents and teachers, and students and teachers much easier. It also helps the school alumni in staying connected with one another. Instead of using the school diary, teachers can send updates to parents regarding attendance, school events, and disciplinary issues through email or SMS.
Easier Transport Management
An SDBMS helps schools stay updated on various aspects in real-time. They include students using the transport system provided by the school and their addresses. It makes route planning much easier and helps the school authorities and parents keep track of the school bus.
Simplified Admission Process
The student database management system makes the admission process faster, more secure, and error-free by leveraging the power of cloud computing. As students seeking admission can upload their application forms and essential documents to a cloud-based application management system, sending admission test results, counselling dates, reminders, and knowing admission status are very easy. 
Faster Attendance Management
The biometrics- or access card-based attendance management system enables the school to maintain accurate records of student and staff attendance. The tedious process of the teacher calling out names can be avoided. In addition, it provides the administration department with summaries on time and information as regards regular latecomers, absentees, etc.
Automatic Timetable Generator
Typically, the school timetable is manually prepared at the start of each academic year. It is a challenging task for teachers. Student database software creates an effective and error-free timetable automatically, ensuring the optimum usage of not only resources but also school infrastructure including laboratory, library, and computer labs.
School Events Calendar
The school events calendar keeps the parents informed as regards the various activities and events that the school organizes. This is because parents can easily access the information from their mobiles. School authorities can view and edit the events calendar using the student database software.
Effortless Assignment Management
The SDBMS comes with an assignment management plugin. This helps teachers distribute assignments and homework to students and also collect completed work, review, and provide feedback. In addition to eliminating the need to manually manage such tasks, the app enables teachers to specify due dates for the submission of assignments.
Increased Data Security
The best aspect of employing cloud computing technology for the management of student database systems is that it ensures the safety and security of school and student data. The SDBMS allows access only to those who are authorized by the school authorities. This ensures the security and confidentiality of all student-related data.
Application Structure of Student DBMS
A student database management system is designed to make the management of student data such as storage, tracking, and monitoring information simple and easy. It also enables school authorities to share relevant information with students, teachers, and parents. This includes everything from student registration and admission to billing and availability of financial aid to deserving students. The SDBMS makes the process of student enrollment quick, systematic, and error-free. As the entire data is saved at a central location, typically in the cloud, and role-based access to data is granted to each stakeholder, the student data remains secure.
(Visited 1773 times, 6 visits today)