Top Apps teachers use to make online classes interesting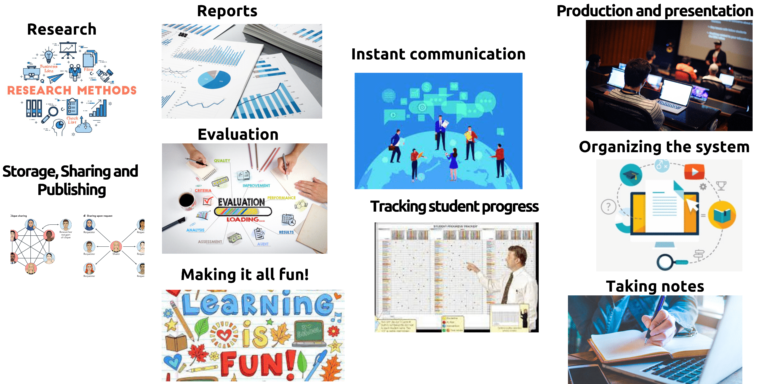 The world is inventing and adapting to modern technologies faster than ever. But these innovations had a slow-paced influence on the educational system till the pandemic, which made us use more advanced tools to cope with the scenario. These tools have made the educational sector more accessible and easy during the pandemic. In the post-Covid world, teachers and institutions tend to prefer these tools or apps for educating students. It is important to note that the apps we use to build an important sector should qualify in certain aspects to be of use to teachers, students and institutions.
Research
The collection of materials and research is the primary and the basic foundation that determines the quality of education. Even for primary education, teachers must collect adequate resources which are authentic and easy to learn. Collecting these resources and planning lessons can be made easy with the help of apps that are designed specifically for the purpose. 
For example, websites like Ted-Ed provides teachers with animated and customized lessons for an appealing visual medium, while websites like Scholastic helps with books and literary resources. Also, free search engines like Google scholar allow teachers to surf the web exclusively for scholarly literature. This enables teachers to search across many disciplines and effortlessly read academic and professional publications. Another common tool used by teachers is Pinterest. Pinterest helps you discover new resources, project ideas, and collaborate with other teachers. Pinterest can also be used to showcase student works to build their confidence.  
Reports
Any system can only perform at its best with excellent management and reports. Teachers must report the progress and the quality of each student based on different factors such as tests, assignments, classroom presence and punctuality etc. They should also accurately report the number of classes conducted, amount of work given, and portions covered for the management to monitor the whole system and improve efficiency. 
Apps like MS word comes with inbuilt report templates, which can be used to create professional reports on the go, or one can create their own report from scratch. Another member of the MS Office suite, MS PowerPoint, can also be used to create a report with its simple design elements and easy to work interface. Teachers also use MS excel to generate reports with charts, tables, graphs and other elements that are more visually appealing than the raw data. One can also go beyond excel and use a more dedicated app like Google data studio to produce more automated and interactive reports with its easy interface and simple workflow.
Instant communication
Communication is key in education, be it parent-teacher or student teacher. Instant communication in the online platform can considerably decrease the parent-teacher gap, which is prominent otherwise. Parents and teachers can meet through online platforms like private or public groups in social media and evaluate and discuss the progress and performance of students and make plans and goals for the student. This helps in providing the best personalized educational package for each student. 
These communications can be done by messaging apps like WhatsApp,, which can be used for exchanging media and other conversations,. One can use a more dedicated app like Bloomz, which provides options to share reports, post assignments, and meetings to make effective parent-teacher communication. Bloomz also provides a student's timeline feature, a beautiful way to share student-driven portfolios.
Production and presentation
Most of the students are visual learners, it is important to convert the prepared lessons to visual media and present them to understand and grasp the topic easily. Most teachers use animated videos or presentations for this purpose and to make learning more engaging. Breaking down the topic into simple diagrams and flowcharts also helps in learning. 
Presenting these prepared multimedia through different platforms makes it more accessible. A good platform can provide teachers with a place to teach and engage with the students simultaneously. 
 MS powerpoint and Google slides helps create visually pleasing presentation slides with various elements, while diagramming programmes like Lucidchart helps to create elaborate diagrams, flowcharts, mind maps etc., with its well-stocked libraries. Other graphic designing software like Canva can also be used to create beautiful posters and illustrations with ease, or one can opt for a more interactive platform like Nearpod, which is a web-based tool used to promote active learning and interaction in students, consider it as a web-based interactive version of powerpoint or Google slides which can be used to create and present remotely.
Evaluation
Periodically evaluating students helps us understand their progress during their studies. Online tests and assignments have become an easy and efficient way to evaluate students' performance. Teachers can now conduct tests and give assignments any time to check the progress of students. They can also conduct face to face interviews and Q&A sessions to ensure that students are on the right track and provide assistance if necessary.
 Apps like Google forms helps teachers to provide students with instant quizzes and surveys, or a detailed evaluation can be done by posting assignments in Google classrooms. Assignments and examinations can be posted as documents in Google classrooms with preferred deadlines and students can upload their answers to be evaluated.
Storage, Sharing and Publishing
The digital platform provides many options for the storage of contents and materials. Some apps even allow the teacher to record and save live classes. This feature helps the students to revisit each class and grasp more information. Recording classes also saves students from missing them. 
Apps like Google meet and zoom allow teachers to host and record real-time meetings and share their activities and use it as a platform to share slides and presentations. The contents from these platforms can be saved and shared using apps like Google Classroom and other cloud platforms.
Most platforms like Google drive provide options to publish notes and other media. The accessibility to these resources can be controlled by the publisher which makes it secure and private. The teacher can publish the material and share links to a public or private group as desired.
Teachers can also use video sharing platforms like Youtube to upload and share their classes online. They can also use more dedicated apps like Udemy that allow teachers to upload online class videos, powerpoint presentations, documents, etc using Udemy's inbuilt course development tools. Online learning apps like unacademy also allows teachers to upload videos and host live-stream classes, while platforms like Course era provides a global learning platform that provides thousands of online courses in partnership with the world's leading universities.
Tracking student progress
Apart from the basic evaluation methods mentioned above, a student's overall performance can only be obtained by analyzing his behavior and other social skills. These, along with the total academic performance of the students can be used as an important factor to track a student's journey. 
Learning apps like Classdojo provides a fun and entertaining way for teachers to track student behavior, give assignments, quizzes and share them with parents. In contrast, others use apps like Google Classroom to provide assignments and tasks to evaluate students behavior and use worksheets to track and record their progress, presence and attendance for a complete evaluation. 
Taking notes
Taking notes while learning helps the students connect to the topics more and helps them remember them. There are many notes taking apps that help students learn. It is also important to note that any app or physical device can be used to take notes as long as it is good at taking notes, easily accessible and value for money. 
Microsoft OneNote is one such app that is simple, easy and functional to take notes in the form of audio, images or texts and create organized notes. Some apps like Ever note also enables us to take notes on the go and sync them to all connected devices, it's easy interface and functionality makes it feel more like a well-organized online file cabinet.
Making it all fun!
Learning can be a lot easier when it's fun. Online learning is the perfect tool to make learning fun. Several apps in the market utilize modern technologies like augmented reality and artificial intelligence that makes learning both educational and entertainment. This also helps students build a positive attitude towards the subject. 
Apps like Seesaw provide students with online journals to record their progress, upload photos and share their learning, while apps like Flipgrid elevate the text-based discussions and enable teachers and students to interact through short videos on specific topics. Another important tool used to make education fun is employing gamification strategies in education. Adding game mechanics to a non-game environment can increase interest and interaction. For example, Moodle is a popular learning platform that allows teachers to manage online classes and facilitate gamification of the learning process by using avatars, creating leader boards, live quizzes, level-ups, and badges to complete tasks.
Organizing the system
Ultimately, keeping a tab on all the above aspects and coordinating accordingly is very important for the functioning of the online education system. Teachers can use apps to organize data on different areas like test scores, assignments, behavior and participation of students and coordinate with parents and management. Many organizational apps can be used for better coordination and performance. Google Workspace is one such platform that can collect data from all the productivity apps from Google and get everything Organized. 
(Visited 114 times, 1 visits today)